Bringing Hollywood to Holi: 35+ AI Images of Celebrities Enjoying The Festival Of Colors
By Jishnu B July 10, 2023
---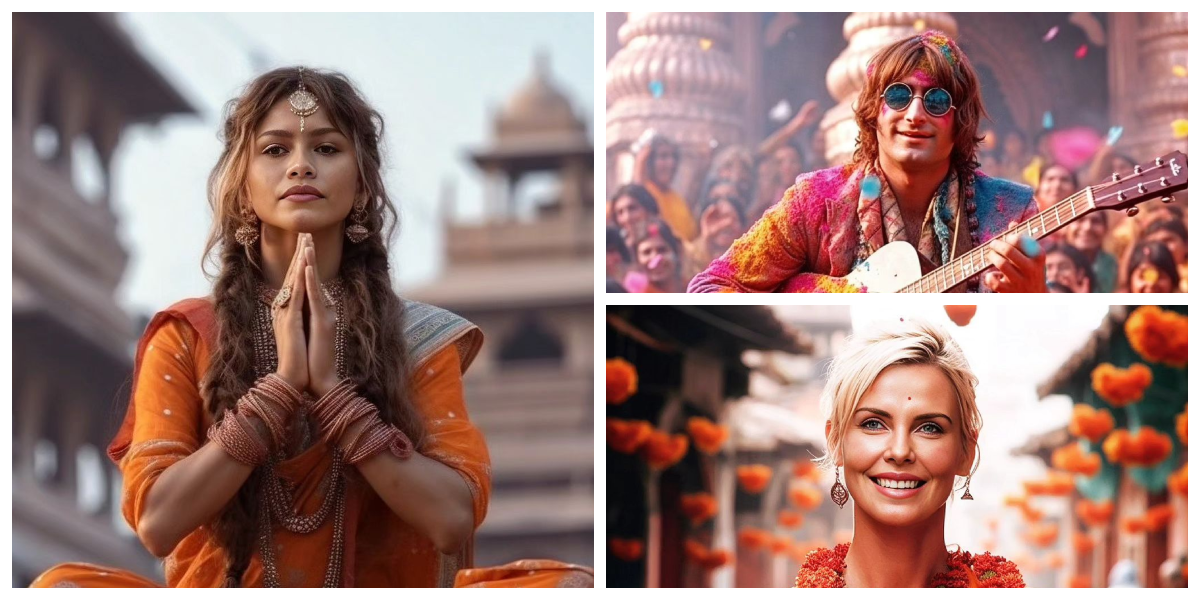 Ladies and gentlemen, prepare for a splash of AI-infused creativity in Indian traditions! In this extraordinary extravaganza, we dive headfirst into the glitzy world of celebrities as they are reimagined as monks or are seen getting their groove on during festivities. Joining us on this mesmerizing journey are the masterminds behind the images, a group of artists who goes by the Instagram handle @wild.trance. They have harnessed the power of artificial intelligence and elevated it to unimaginable heights. With a virtual paintbrush in one hand and the magic of algorithms in the other, @wild.trance breathes life into their imagination. So, hold on tight and brace yourself for an artistic roller coaster ride like no other as the artists unleash the hidden potential of AI in the captivating world of native traditions of India.
Gal Gadot
Hollywood superstar Gal Gadot becomes a radiant muse of Holi festivities. Here she is draped in a mesmerizing orange saree, with her head covered in a traditional manner. Parted in the middle, her hair accentuates her natural beauty while an intricate bead garland adorns her neck.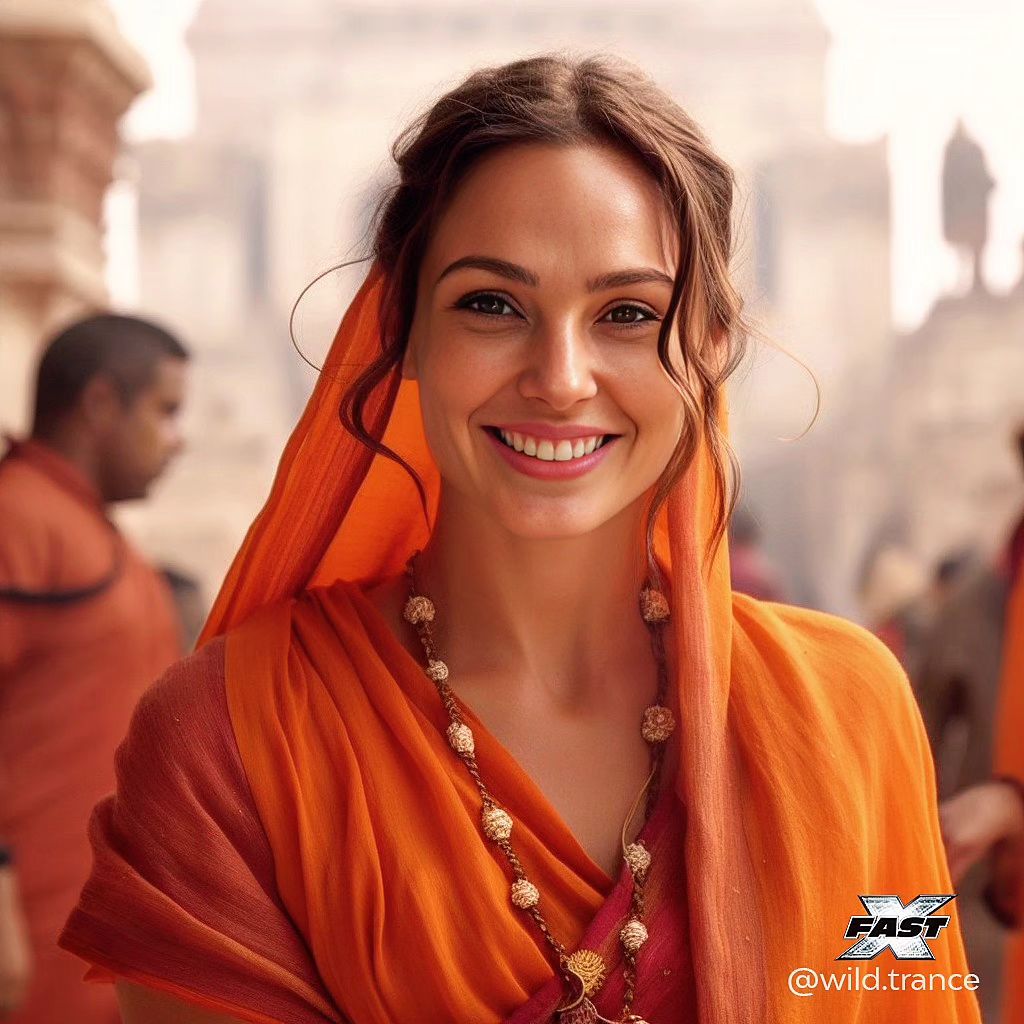 The vibrant orange saree envelops her, enhancing her striking features and reflecting the peaceful spirit of saints. The head covering brings an air of reverence and cultural appreciation, symbolizing her immersion in the rich traditions. Wonder Woman is enjoying her time in the celebrations.
Brad Pitt
The Hollywood heartthrob Brad Pitt sports a light orange Punjabi and a mischievous smile that could make anyone weak in the knees. Picture the effortlessly stylish actor adding a touch of flair with an orange piece of cloth wrapped ever so casually around his neck. It's a look that could set the fashion world ablaze.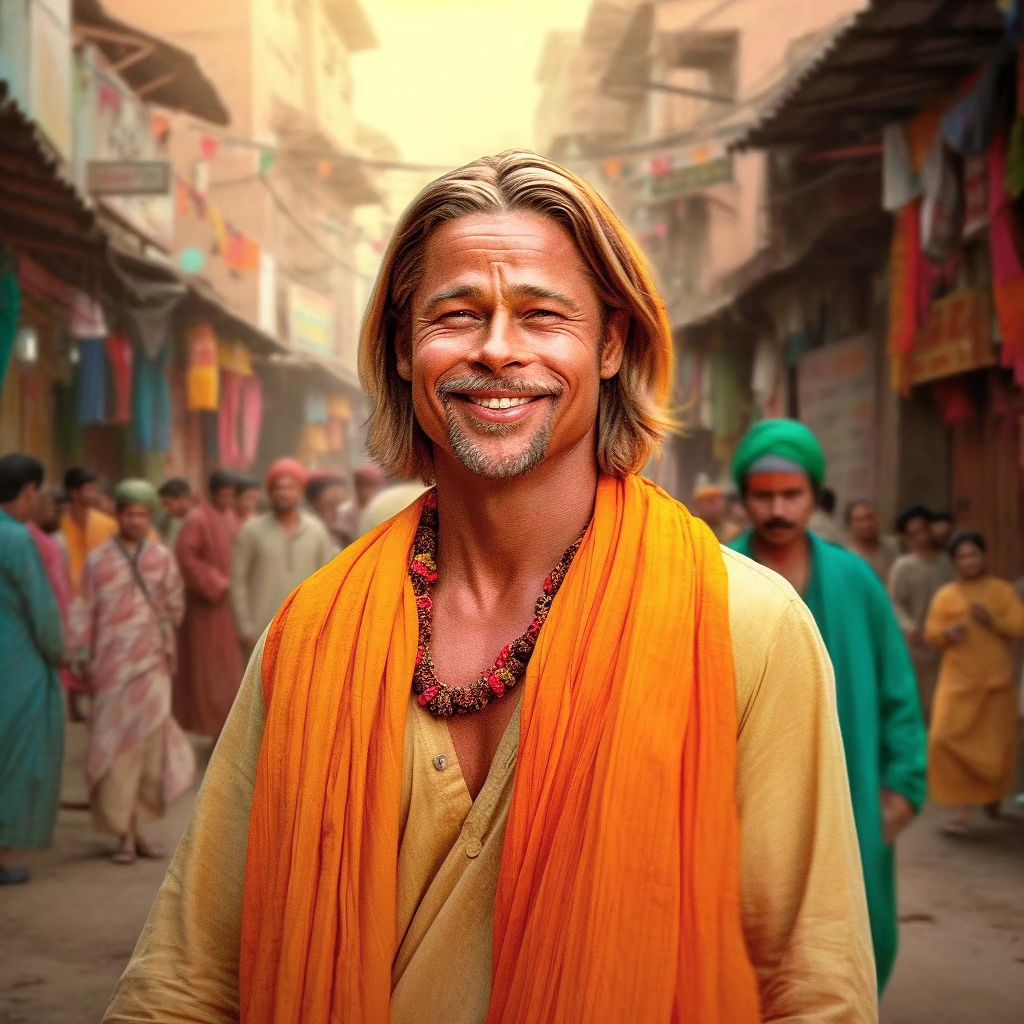 The once-muted hues come alive in his vibrant ensemble, perfectly complementing his devilish charm. With every step, he exudes an air of carefree elegance, effortlessly transforming the scene into a red-carpet affair. His infectious laughter fills the air, echoing through the jubilant crowd.
Brie Larson
Brie Larson, known for her incredible performances, stepped into the world of traditions with grace and charm. Adorned in an exquisite orange saree, she radiates elegance and confidence, effortlessly capturing the essence of the celebration. As Brie dons her vibrant ensemble, her smile shines brighter than the sun.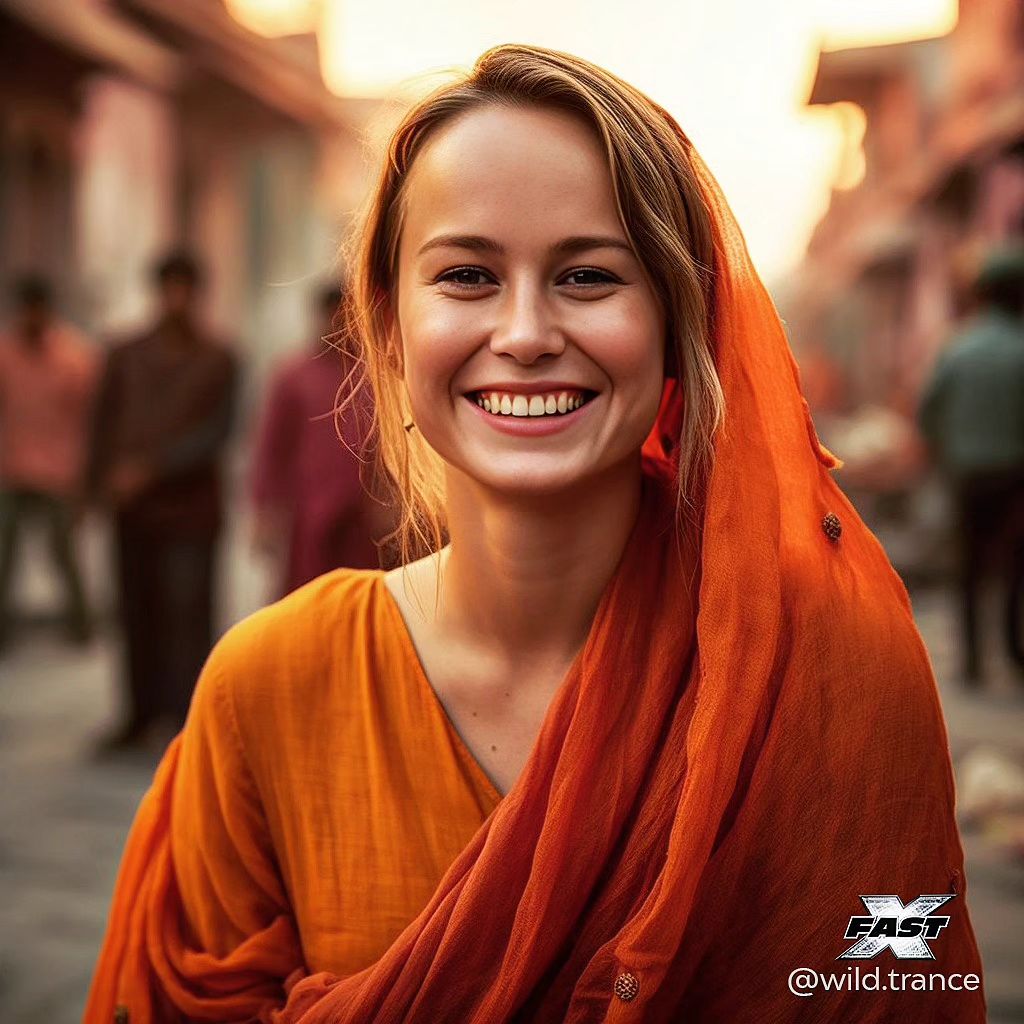 The orange saree gracefully dances around her, adding a layer of grace and charm to her already charming persona. In this magical moment, we witness the seamless blend of culture and beauty, with Brie effortlessly embodying the spirit of purity.
The Rock
Dwayne "The Rock" Johnson embraces the spirit of Indian monks with his larger-than-life presence. The Rock, a symbol of strength and determination, is draped in orange fabric that accentuates his chiseled physique. Hints of vibrant haldi color accent his body, adding extra flair to his formidable presence.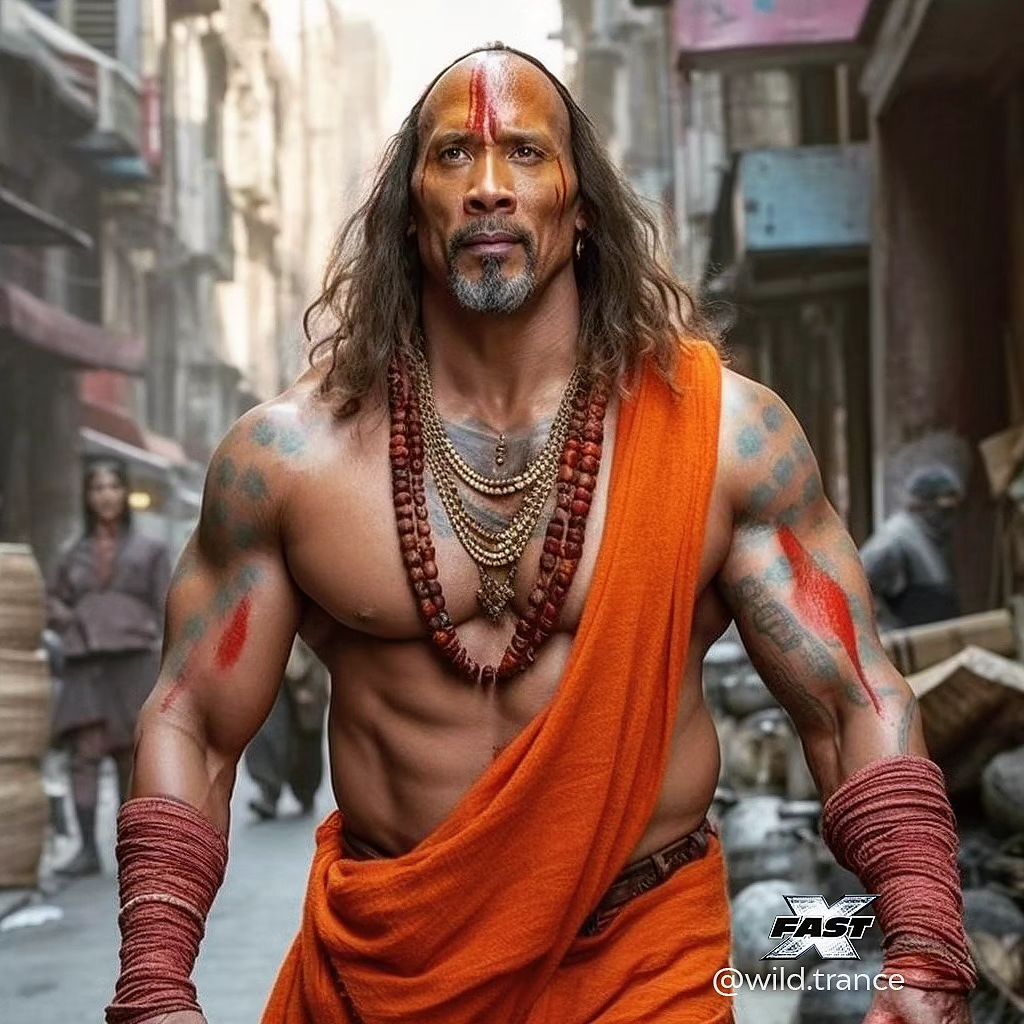 As The Rock enters the scene, a bead garland adorns his neck, symbolizing his reverence for the traditions and customs. His tattooed arms flex with every step, showcasing his incredible strength and indomitable spirit. In this electrifying moment, we witness the collision of might and mirth.
Elon Musk
Hold on tight because we're about to embark on an interstellar journey with none other than the visionary entrepreneur Elon Musk as he immerses himself in the vibrant traditions of Holi! The visionary dons a sleek black Punjabi, his enigmatic smile beaming brightly amidst a backdrop of an Indian ethnic setting adorned with a kaleidoscope of Holi colors.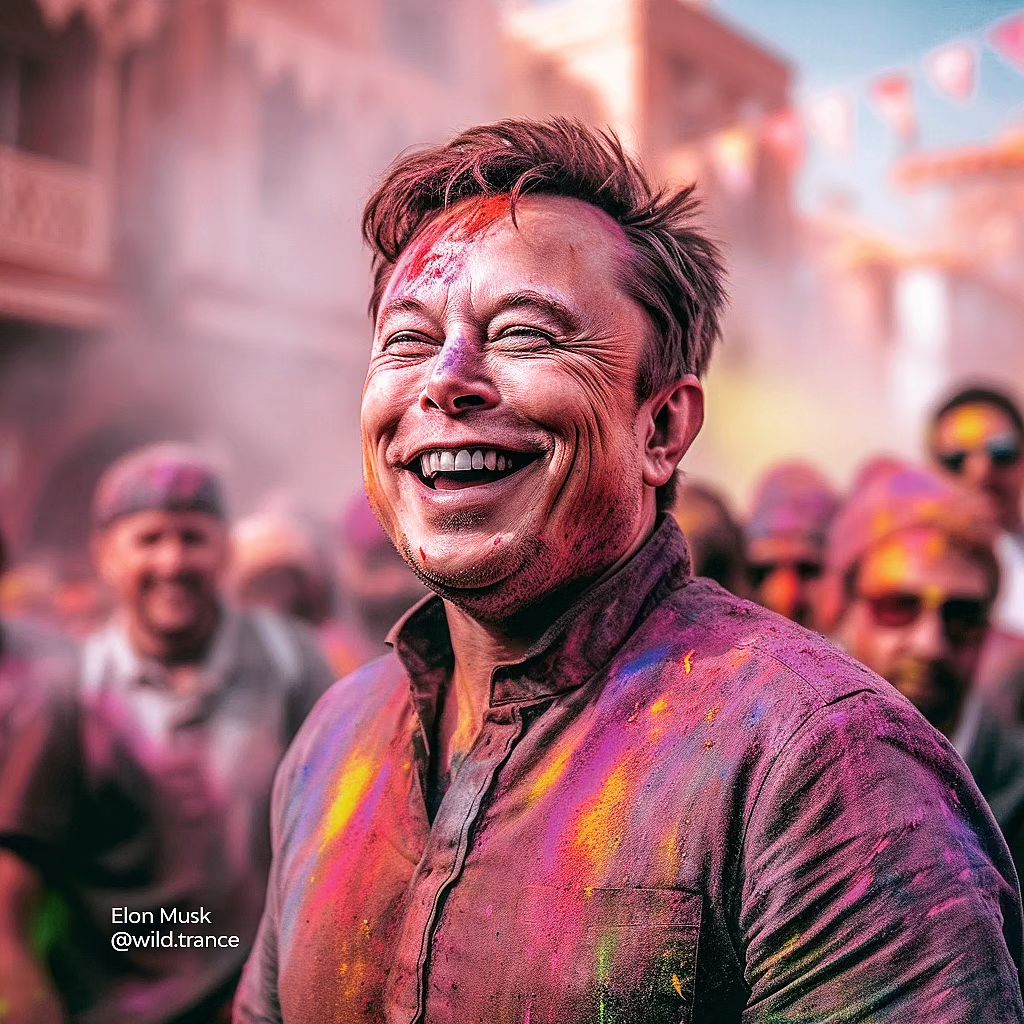 As Musk steps into the scene, the air crackles with excitement. Fusing his avant-garde persona with the rich tapestry of Indian traditions creates a mesmerizing spectacle. His black Punjabi adds elegance to his presence, while the explosion of Holi colors splashed across it brings a playful touch to his attire.
Elvis Presley
Ladies and gentlemen, get ready to be transported back in time to see the King of Rock 'n' Roll himself, the legendary Elvis Presley, in a spectacle like no other! A young Elvis, standing tall in front of a majestic palace, his iconic white shirt adorned with a subtle splash of Holi colors, merging the spirit of the East with the charisma of the King.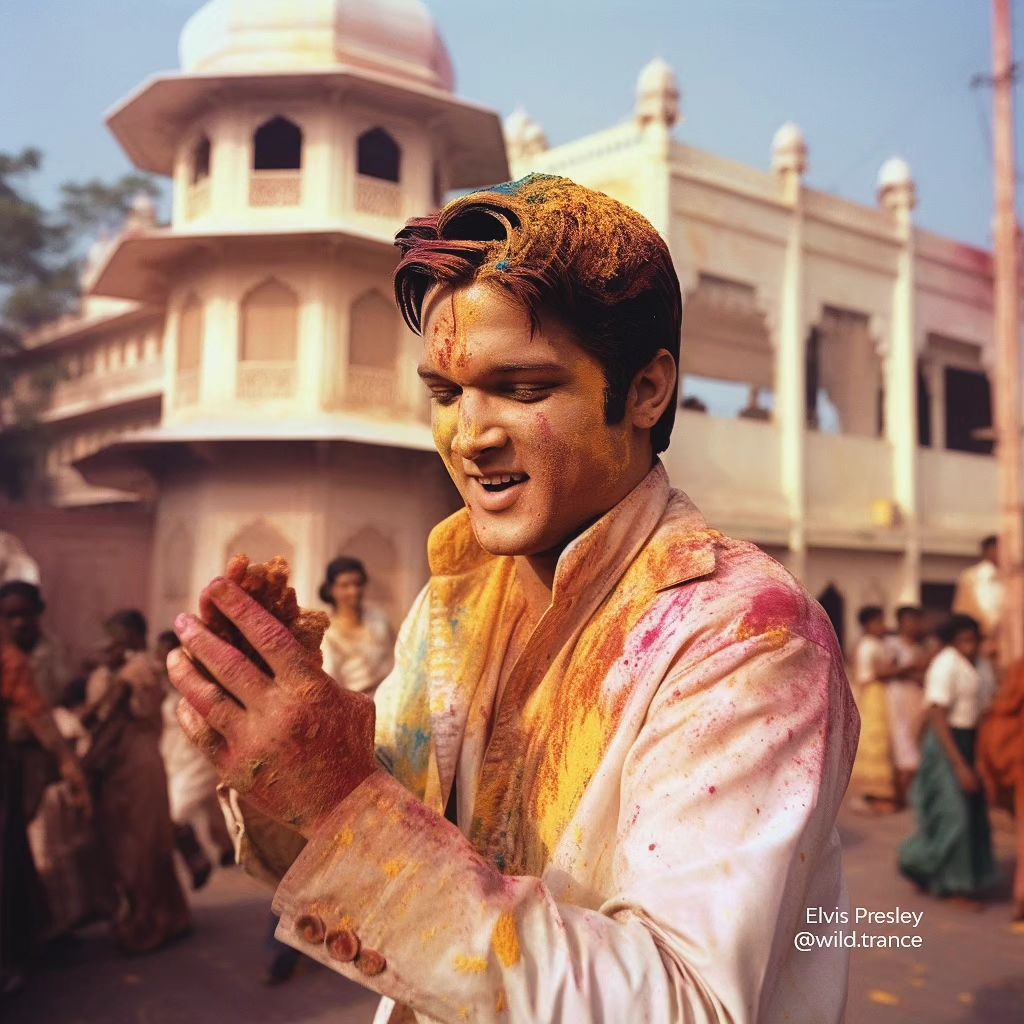 As Elvis exudes his trademark charm, his white shirt serves as a canvas for the vibrant hues of Holi, adding a touch of whimsy and playfulness to his timeless style. The gentle splashes of color enhance his youthful energy, creating a visual symphony that captivates all who look at him.
George Clooney
George Clooney, exuding his timeless charisma, donning a simple grey t-shirt that showcases his effortless style. Over his head, he wears a regal orange fabric, symbolizing his deep respect for Indian culture. His distinguished white beard and hair add an air of wisdom, while a bold red mark adorns his forehead, paying homage to the rich traditions of Hindu symbolism.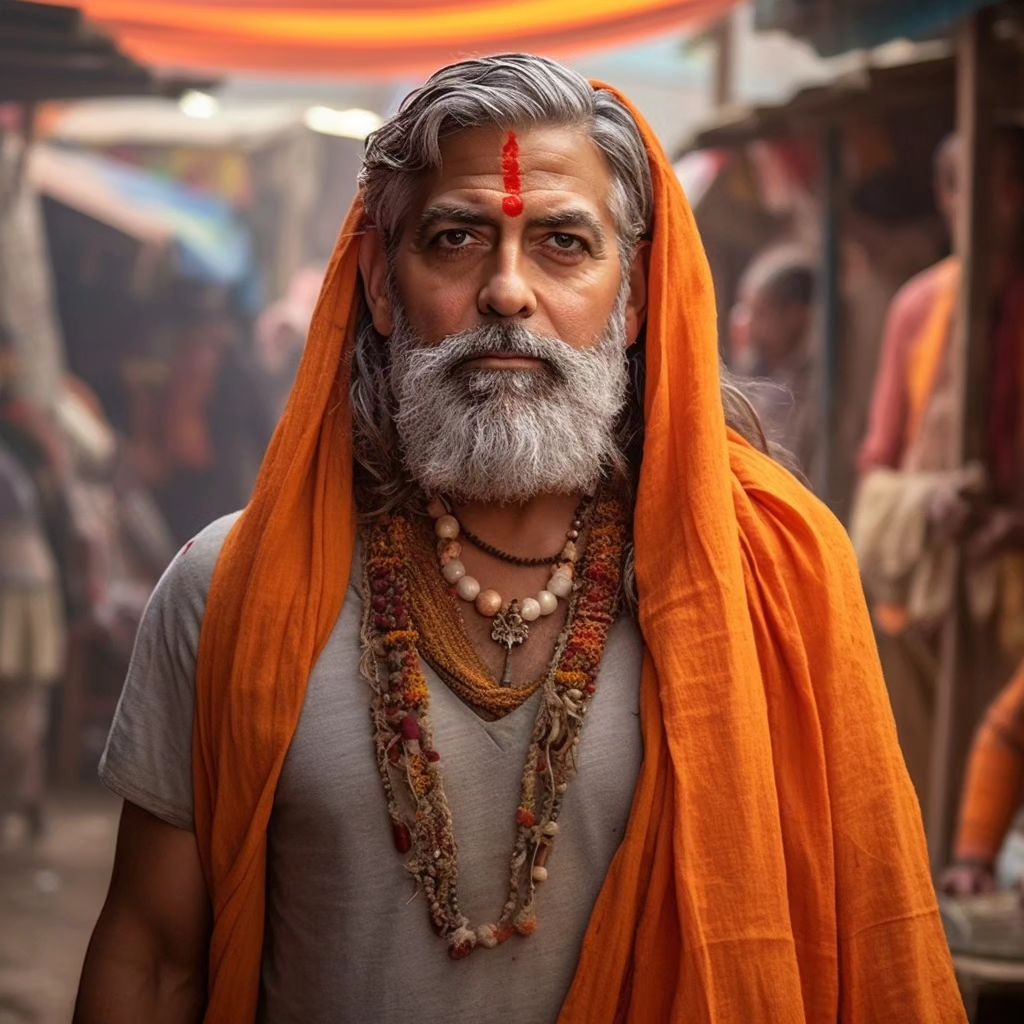 His enigmatic aura, the vibrant orange fabric, and the distinctive red mark on his forehead create an image that captivates all who are present. At this moment, we see the harmonious convergence of traditions as George Clooney stands as a formidable and mighty figure.
Harrison Ford
Get ready for a delightful sight that combines Harrison Ford's charm with the vivacity of Holi! Harrison Ford, the beloved Hollywood icon, looks cheeky and flashes a mischievous smile. He's dressed in an off-white Punjabi, exuding effortless style, while a traditional Indian vest adds cultural flair.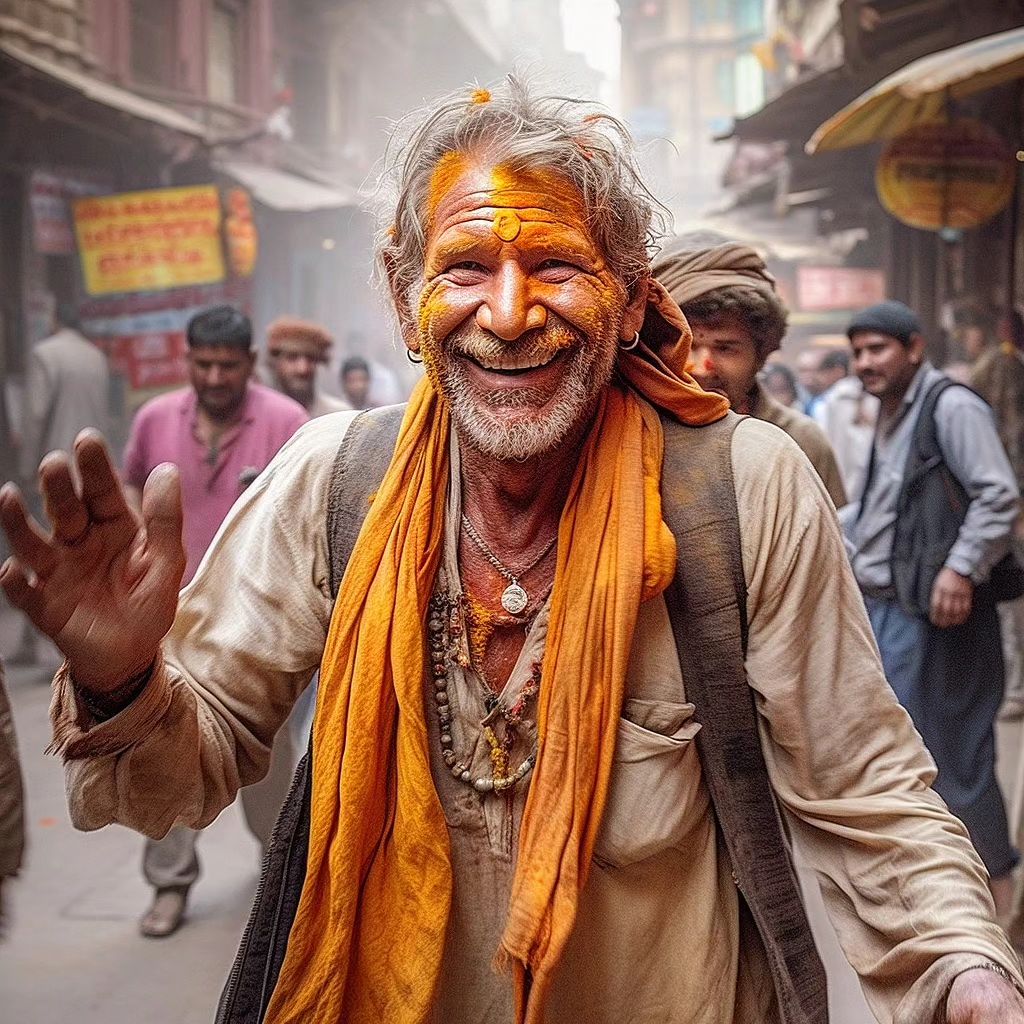 Adorning his forehead is a playful streak of yellow color, blending the festivities with his charismatic presence. And, of course, his distinguished grey hair adds an air of wisdom and maturity to his captivating image. The actor embraces Indian traditions with his trademark adventurous spirit.
Helen Mirren
Helen Mirren draped in the resplendent orange saree, with each fold embracing her with ethereal beauty. Adorning her neck is a delicate marigold flower garland, paying homage to Indian traditions, while her wrists and ears glisten with beautiful bangles and earrings.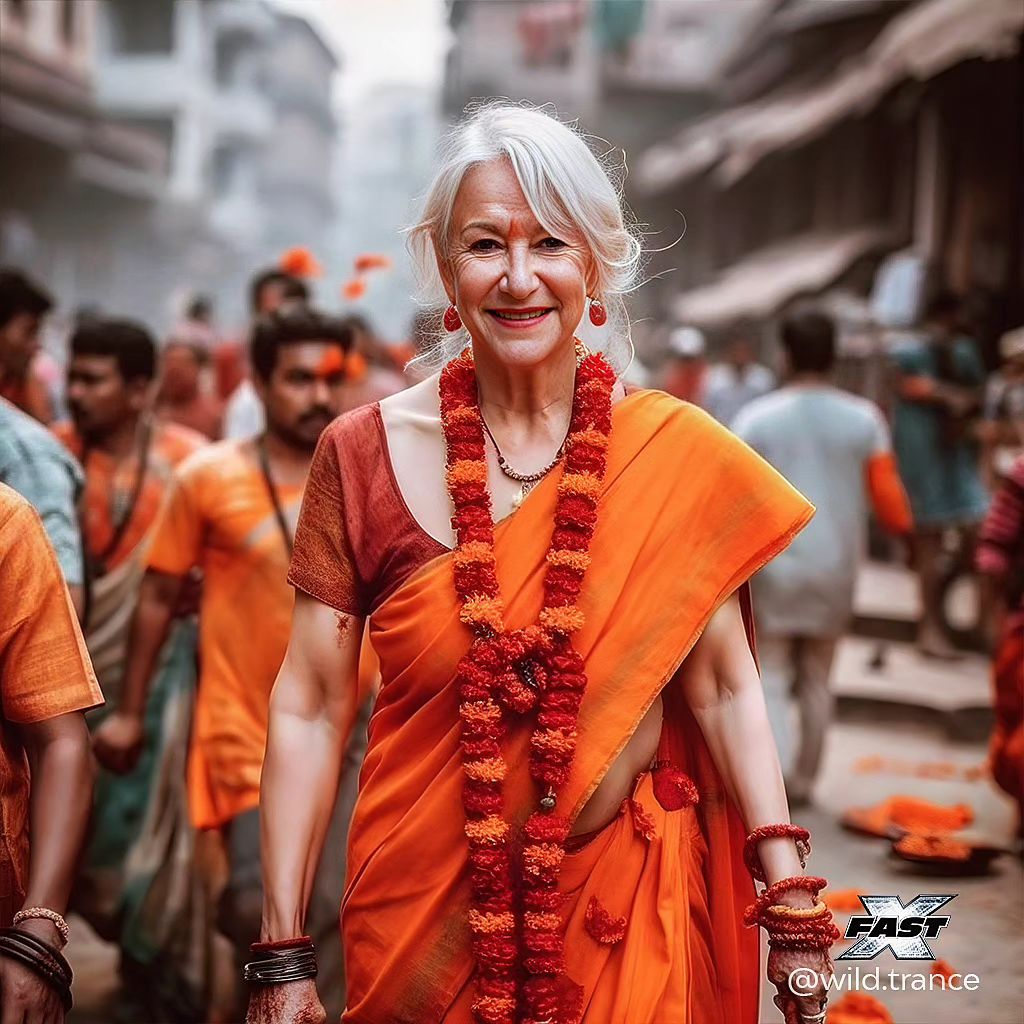 As Helen Mirren steps into the spotlight, her presence becomes a celebration of grace and sophistication. The vibrant orange saree illuminates her natural radiance, enhancing her timeless allure. The marigold flower garland symbolizes her connection to the traditions of India, as she embraces their essence with elegance.
Jason Momoa
Jason Momoa, the epitome of rugged handsomeness, sits atop a roaring motorcycle in the midst of a busy street. With a mischievous smile, he strikes a pose that could make even traffic come to a halt! And we're here for it!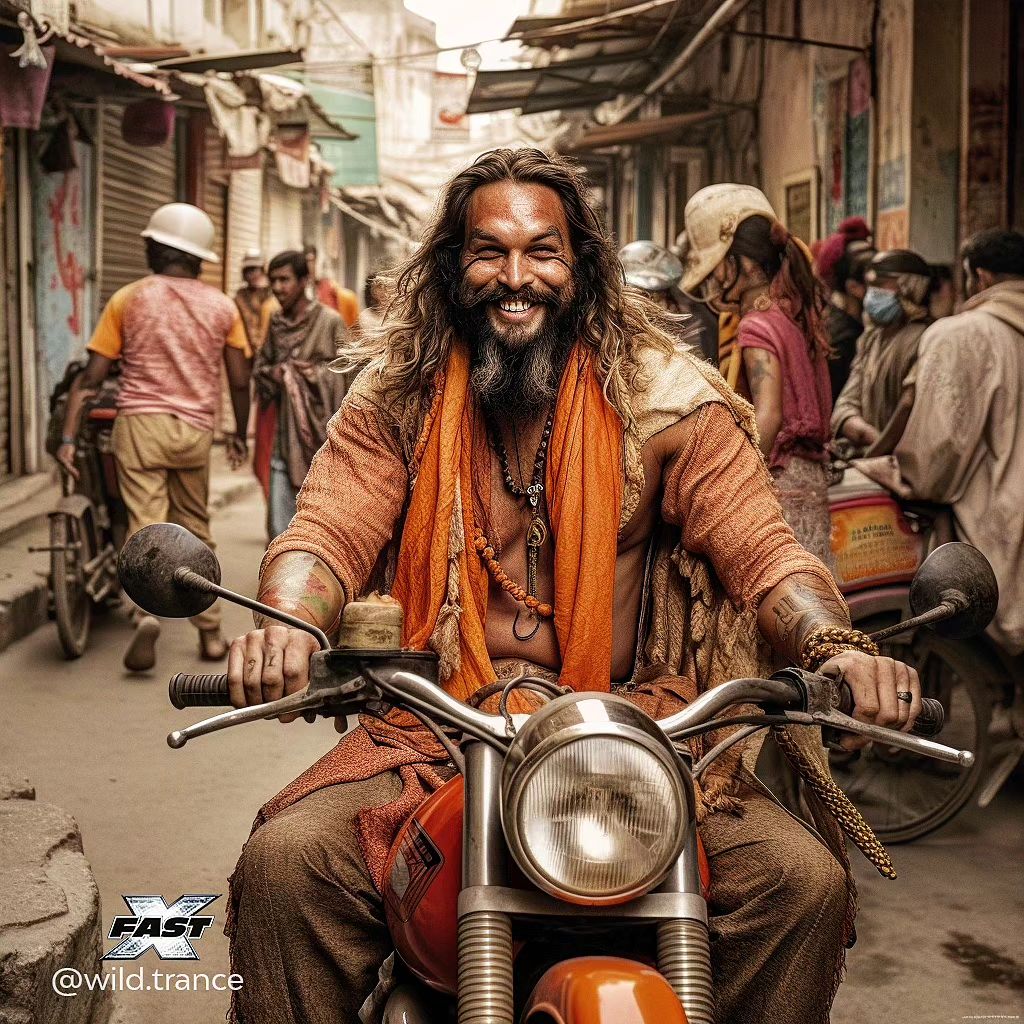 But wait, it's not just any traditional outfit—Jason Momoa has put his own spin on it, infusing it with his inimitable style. With a wink and a nod to tradition, he rocks a one-of-a-kind ensemble that's equal parts traditional and badass.
Jason Stratham
With his iconic bald head, Jason Stratham stands beside a serene river bank framed by a traditional backdrop that exudes cultural charm. But here comes the twist – instead of striking a conventional pose, he playfully puts his hands together in a traditional gesture.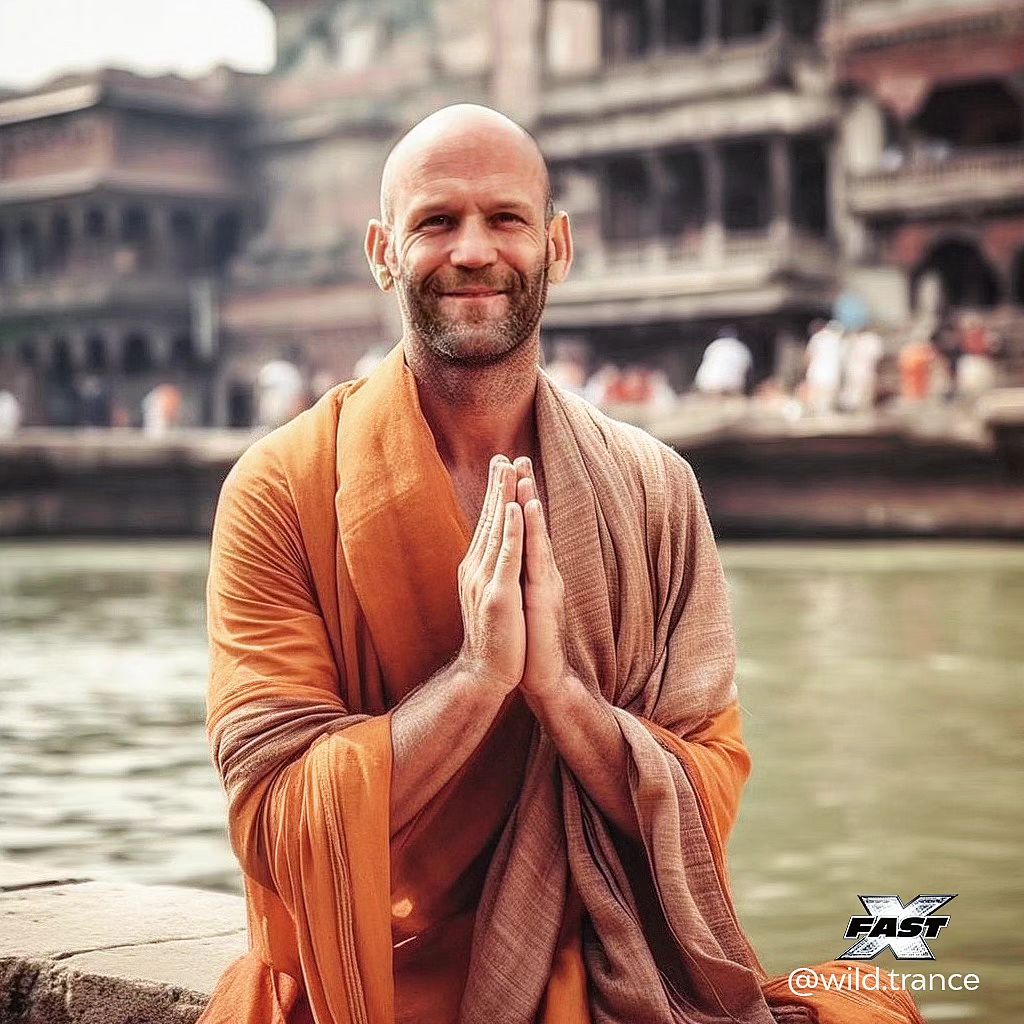 As he stands there, his tough-guy persona takes on a new dimension, melding with the rich tapestry of tradition. Jason Stratham, known for his action-packed roles, showcases his versatility by infusing humor into this cultural tableau.
Jeff Bezos
With his signature wide grin, Jeff Bezos stands amidst a vibrant crowd, his white shirt embellished with an accidental, yet comical, splash of color. As laughter erupts, he joins in on the fun, owning the mishap with lighthearted humor.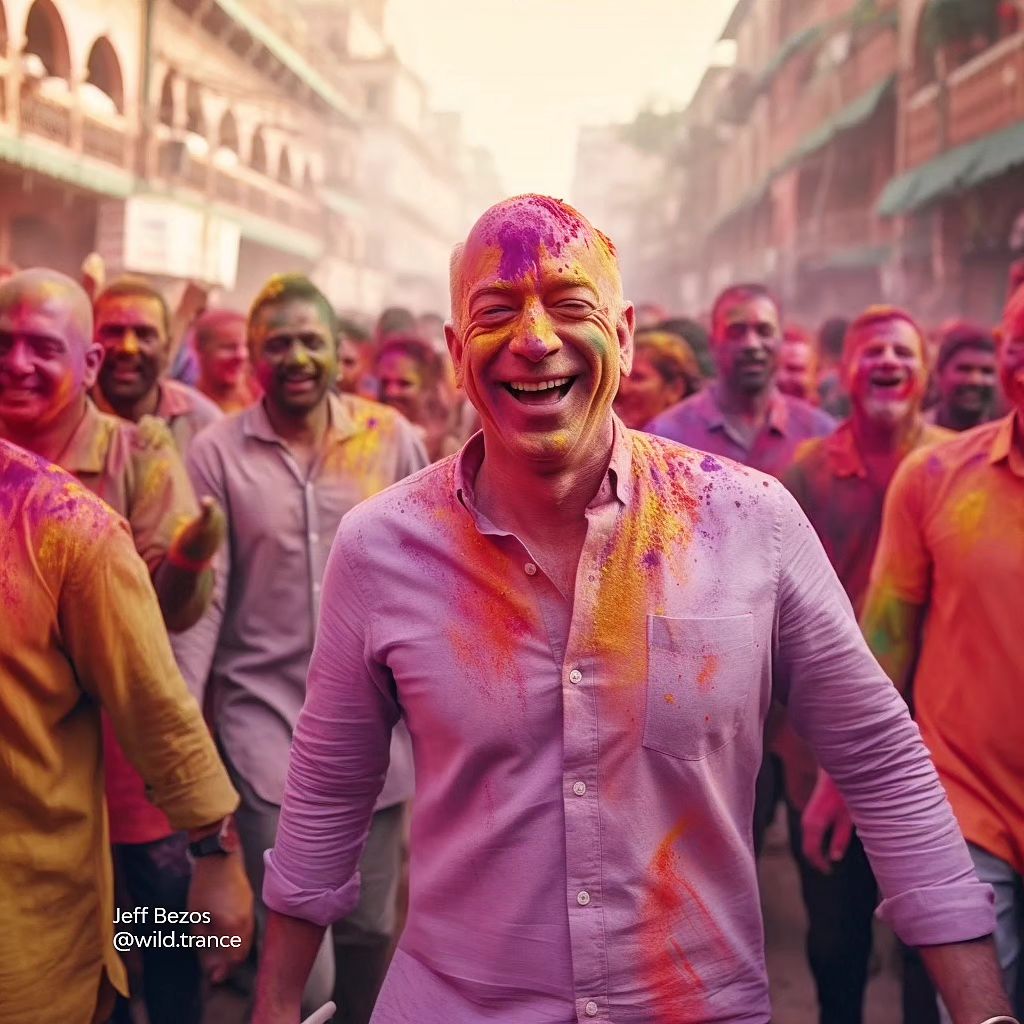 Amidst the sea of people, Jeff Bezos becomes the center of attention as his infectious laughter fills the air. With a twinkle in his eye, he playfully embraces the splash of color on his shirt, turning what could have been a fashion faux pas into a moment of whimsy.
John Cena
The legendary John Cena plunges into the vibrant festivities, donning a vibrant orange traditional outfit, as he joins a group of people for a hearty feast beside a picturesque river bank. His larger-than-life presence adds a touch of unexpected comedy to the gathering.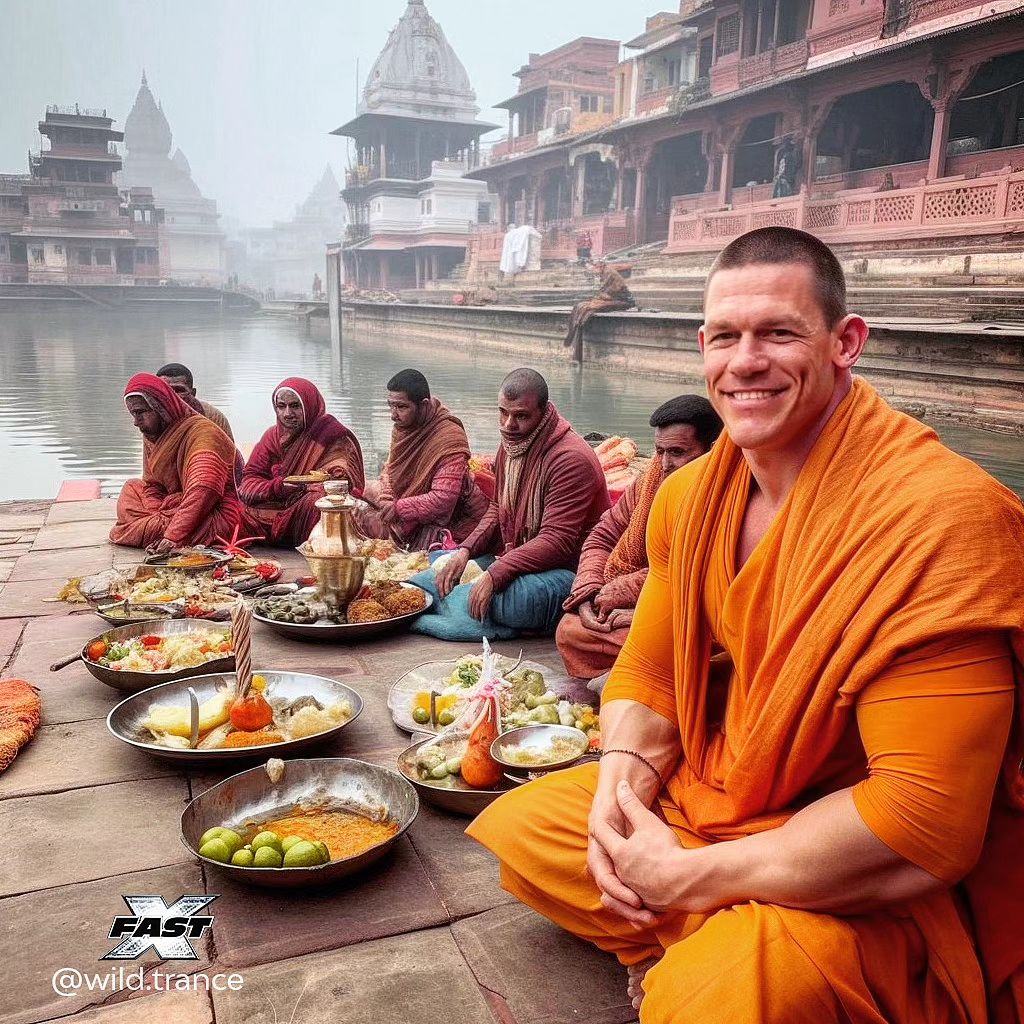 Clad in his vibrant orange traditional outfit, John Cena sits beside the group, ready to indulge in the feast before him. With his infectious laughter and playful demeanor, he becomes the life of the party, leaving everyone in stitches as he showcases his trademark lighthearted humor.
John Lennon
Get ready to witness the legendary John Lennon, renowned for his music and wit, captivating a crowd with his iconic style! John Lennon, dressed in his signature outfit with a traditional flair, sits down with a guitar, ready to serenade the eager audience. But wait, there's a twist!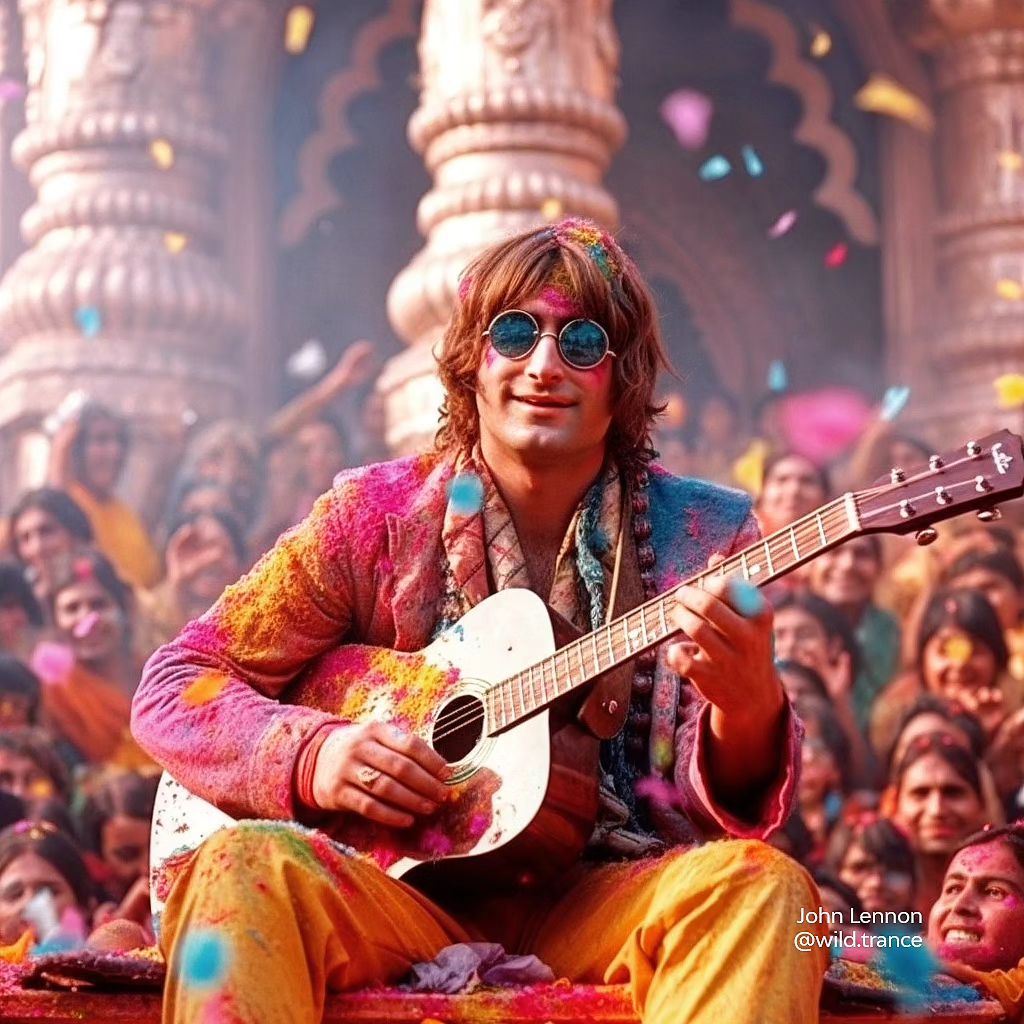 As Lennon strums his guitar, his playful spirit shines through, sprinkling the performance with delightful moments of comedy. He lightens the atmosphere between songs with witty remarks and cheeky anecdotes, leaving the crowd in stitches as they listen to his remarkable melodies.
Keanu Reeves
Keanu Reeves, the epitome of charm and grace, brings his infectious style to new heights as he dons an orange Punjabi accentuating his incredible beauty. With his irresistible charisma, Keanu effortlessly captured hearts in his vibrant ensemble.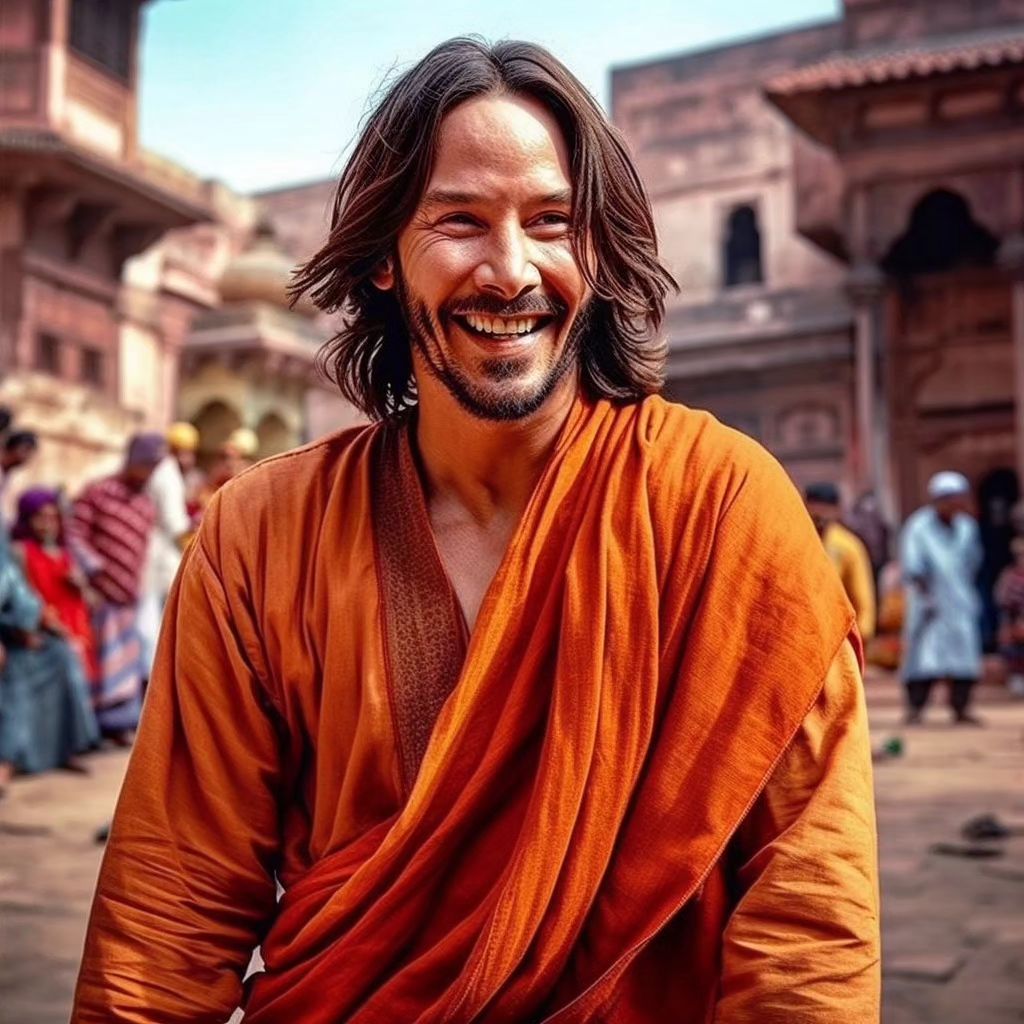 Keanu's persona is a remarkable blend of humility and magnetism. His down-to-earth nature shines through, captivating both fans and colleagues alike. With a kind smile that can melt even the coldest of hearts, he exudes a warmth and genuine presence that is as captivating as his on-screen performances.
Leonardo DiCaprio
With his sleek hair and timeless charm, Leonardo sits gracefully, his forehead adorned with a traditional red mark. Beside him, a pot filled with marigold flower petals and water awaits, ready for a cleansing ritual that symbolizes purification and tranquility.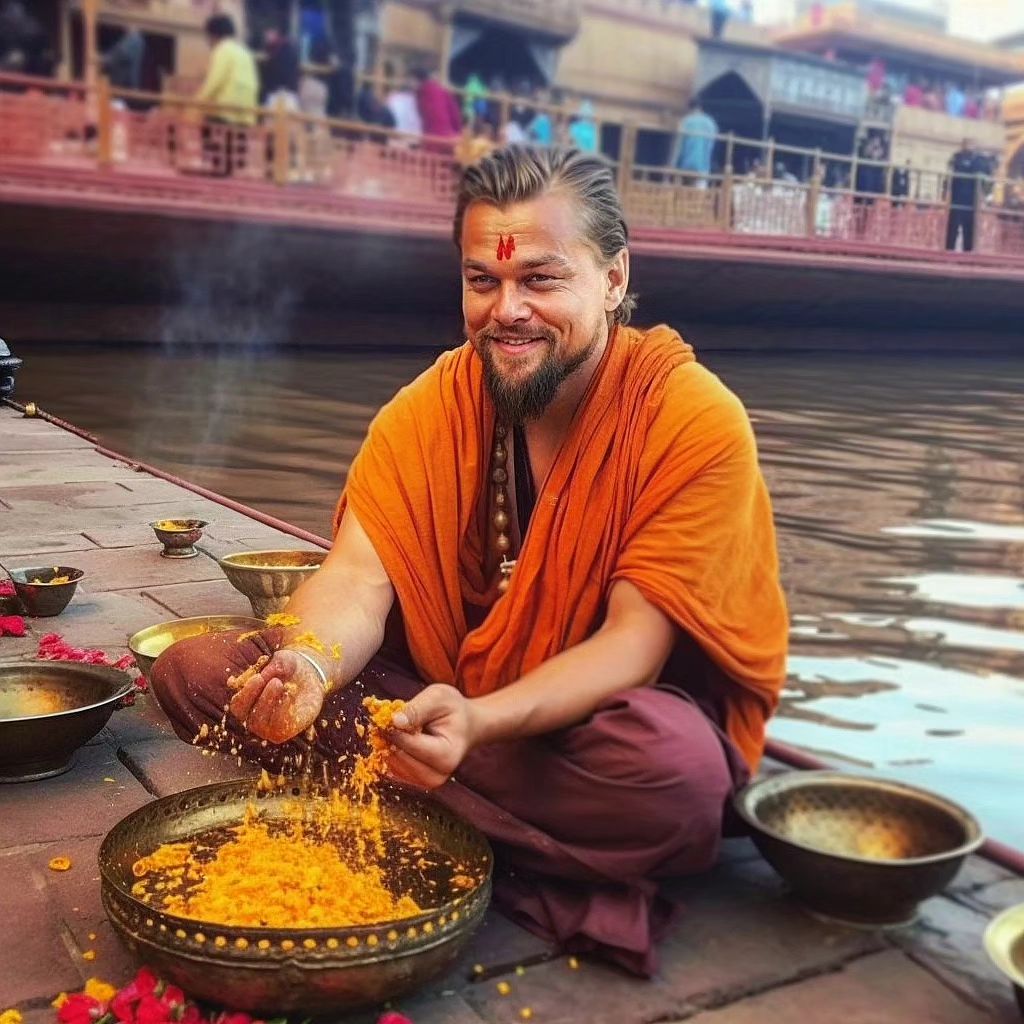 As Leonardo rests by the river bank, his presence exudes a sense of calm and reverence. The red mark on his forehead pays homage to ancient customs, signifying his connection to the deeper meaning of the ritual. With each dip of his hands into the pot, he gracefully pours the marigold-infused water, cleansing his hands and immersing himself in the moment's serenity.
Marilyn Monroe
Marilyn Monroe takes on a new enchanting form, draped in a stunning green saree that accentuates her ethereal charm. She is a vision of timeless beauty. Known for her captivating allure, Marilyn radiates a mesmerizing aura as the green fabric gracefully cascades around her.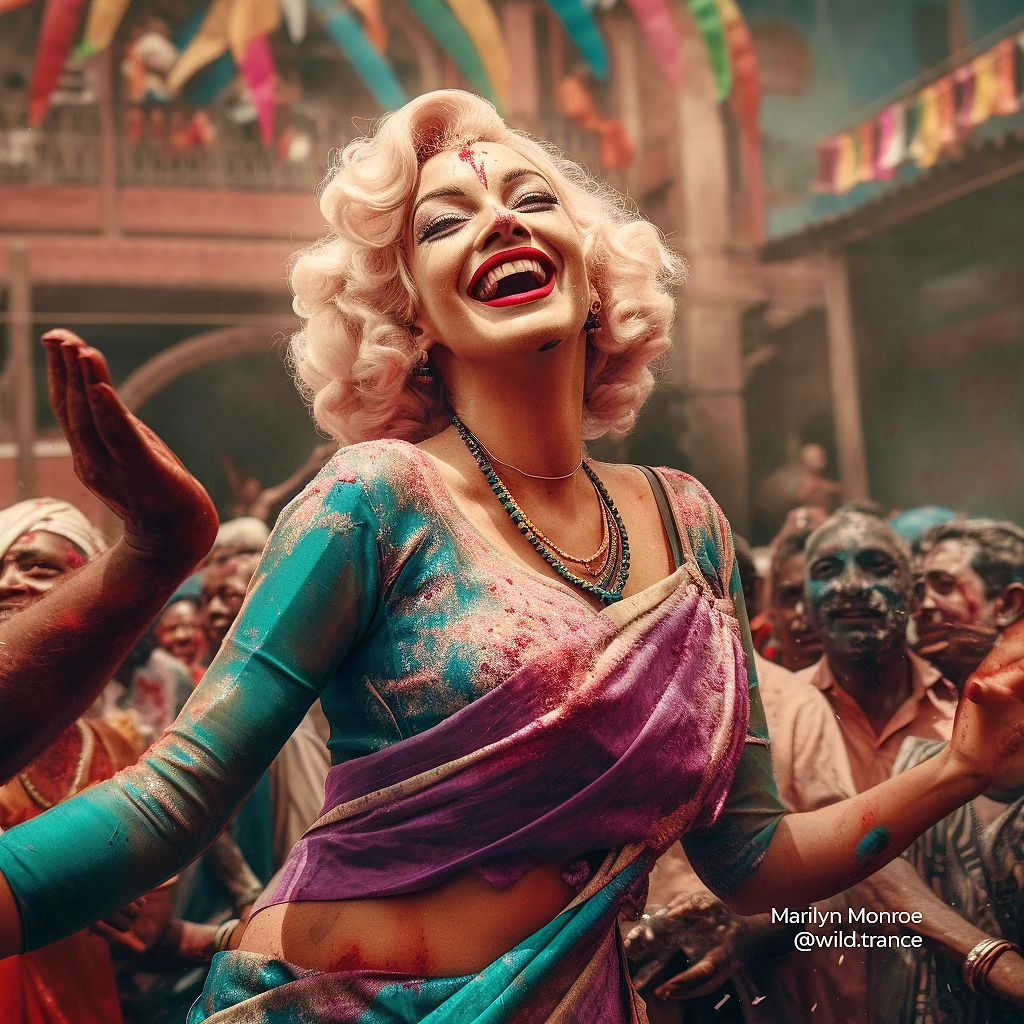 To complement her ensemble, she adorns herself with a delicate green bead necklace that adds a touch of elegance to her already breathtaking presence. Monroe's transformation into the world of Indian tradition brings forth a new dimension of her captivating persona.
Mark Zuckerberg
Tech mogul Mark Zuckerberg, known for his usual outfit, throws himself into the vibrant celebration of Holi with open arms! With a broad smile that resonates through the crowd, he embraces the joy of Holi as his face and outfit become a canvas for a heavy splash of vibrant red and yellow colors.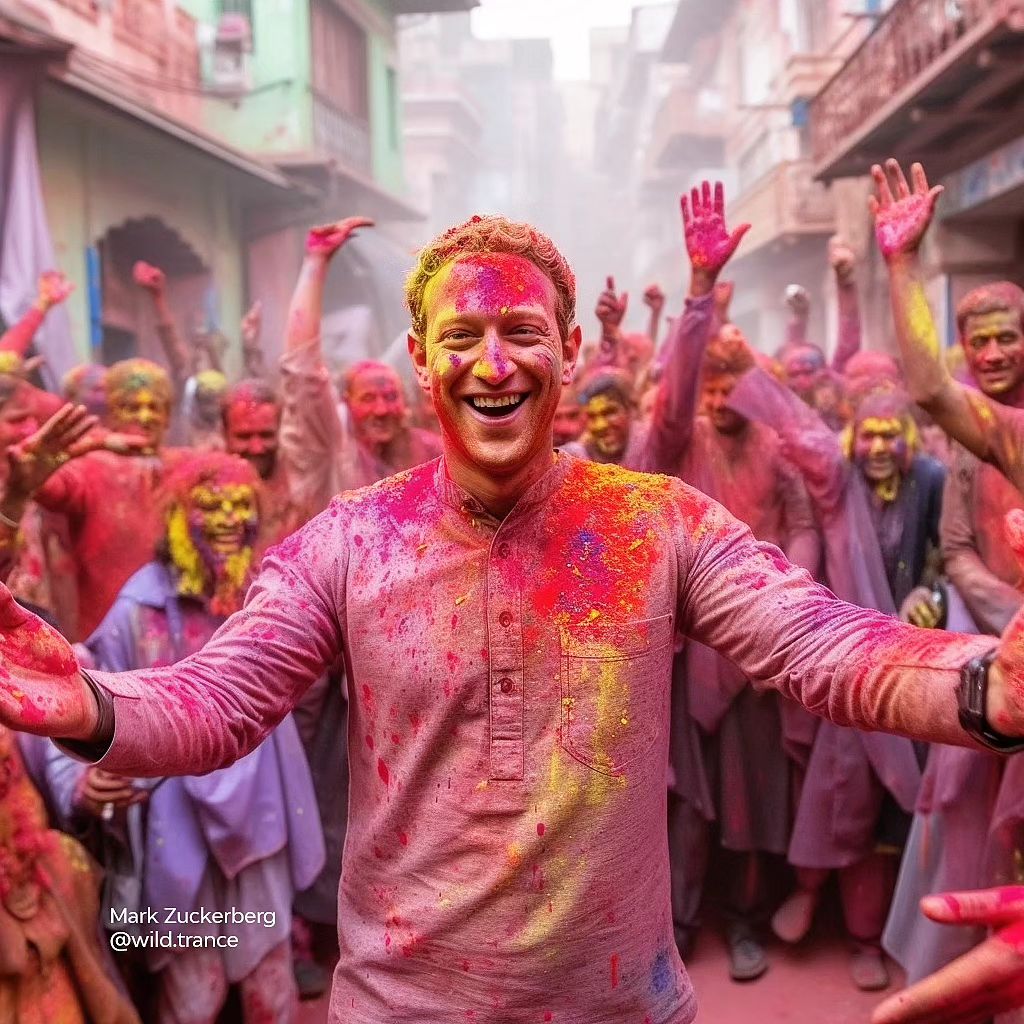 Mark Zuckerberg's unexpected transformation into a walking canvas of colors elicits laughter and awe from the crowd. With each step, his enthusiasm radiates, as he symbolizes of embracing the spirit of celebration without reservation. His willingness to be covered in vibrant colors reflects his desire to step outside his comfort zone.
Morgan Freeman
Morgan Freeman, his warm smile beaming, dons a traditional orange fabric draped around him, transforming him into an ethnic saint of charm and humor. His distinguished white beard adds a touch of wisdom to his delightful and calm presence.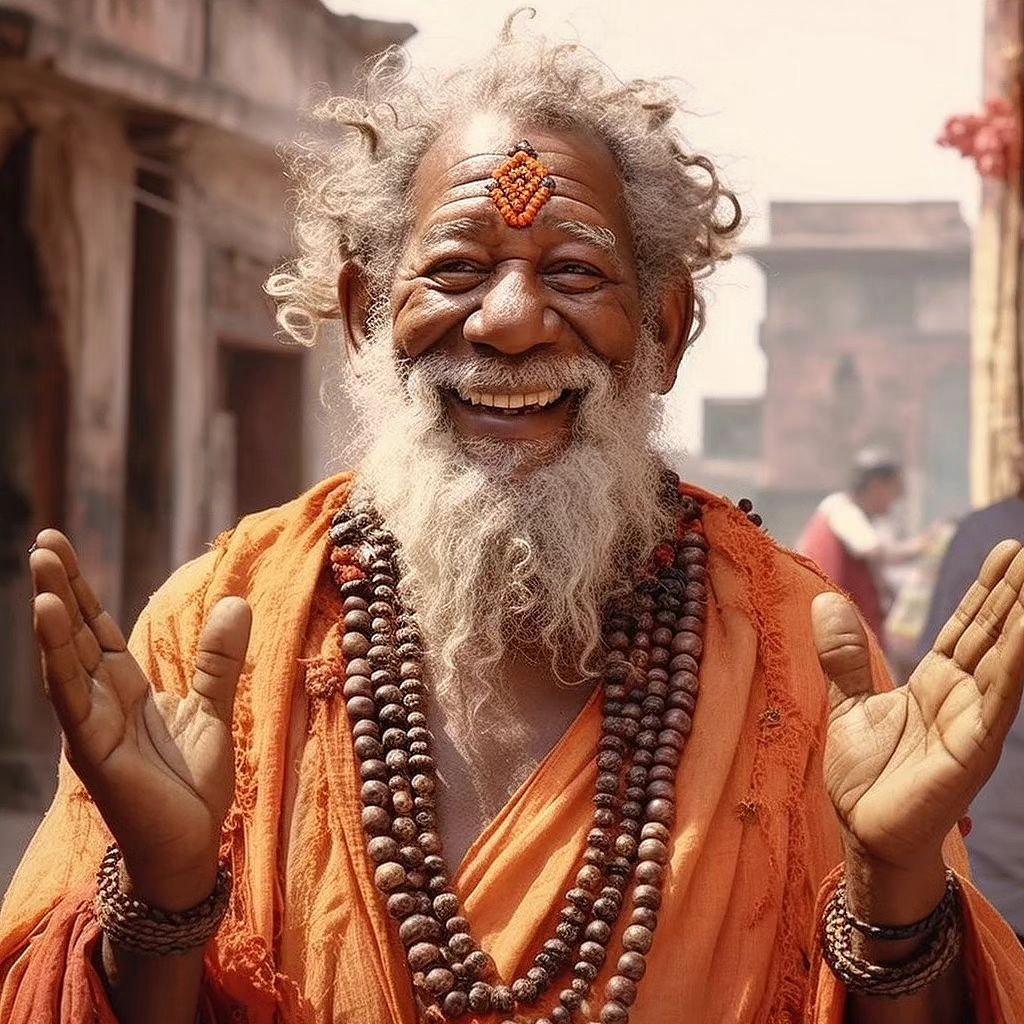 As Freeman embraces the traditional orange fabric, he effortlessly infuses it with quirkiness. His charismatic demeanor, combined with the ethereal essence of a saint, creates an unforgettable spectacle that captivates all who behold him. With a twinkle in his eye, he takes on the role with a perfect balance of reverence and playfulness.
Steve Jobs
The legendary Steve Jobs finds himself amidst a bustling crowd, sporting an oversized Punjabi and embracing the vibrant chaos of colors! Known for his iconic style, Jobs humbly immerses himself in the festivities, clad in an unconventional oversized Punjabi.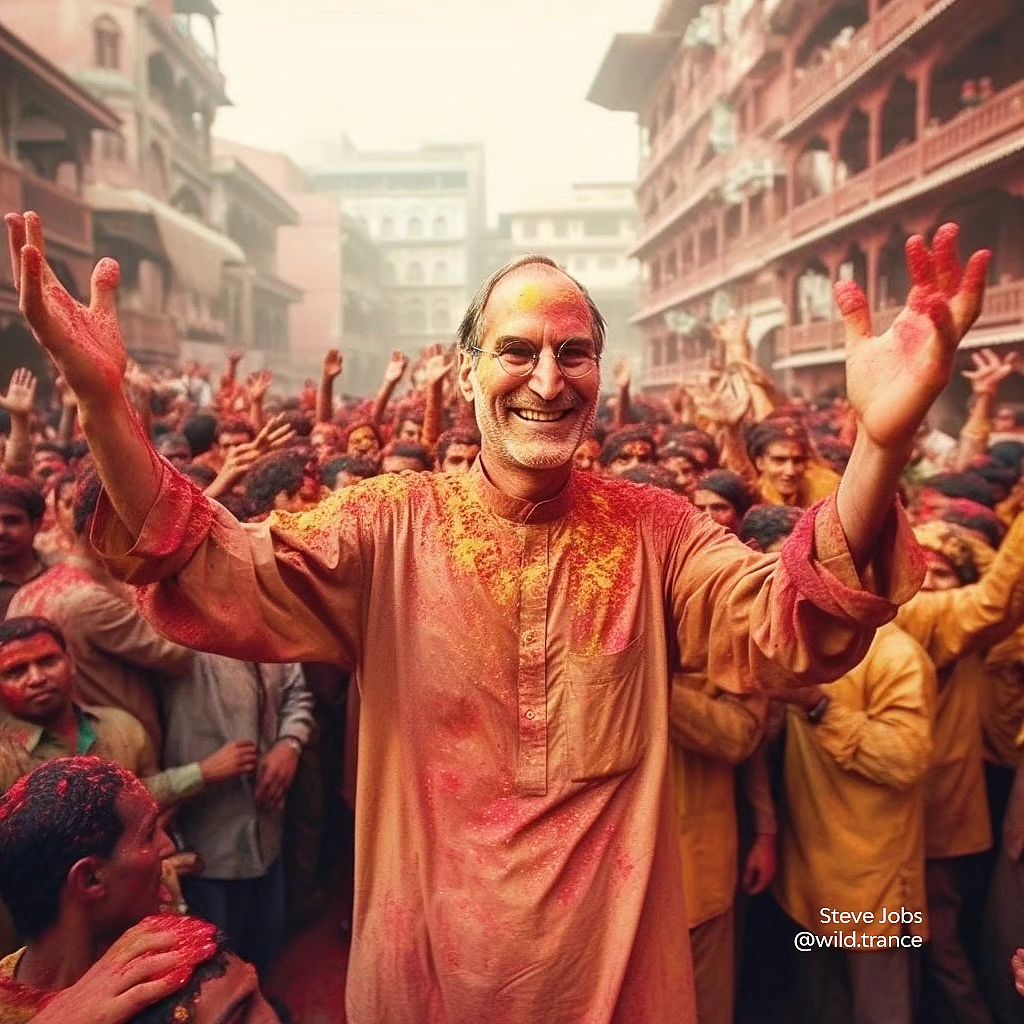 As the colors splash upon him, he becomes a canvas of vibrant hues, radiating an aura of unexpected playfulness. The lively colors mingle with his iconic style, resulting in a quirky ensemble that reflects his unique personality and willingness to challenge conventions.
Vin Diesel
Vin Diesel, the action hero we all know and love, unleashes his inner jolly side by strapping on a garland so big it could double as a Christmas tree! With a twinkle in his eye and a mischievous grin, he transforms into the quirkiest Hindu saint you've ever seen!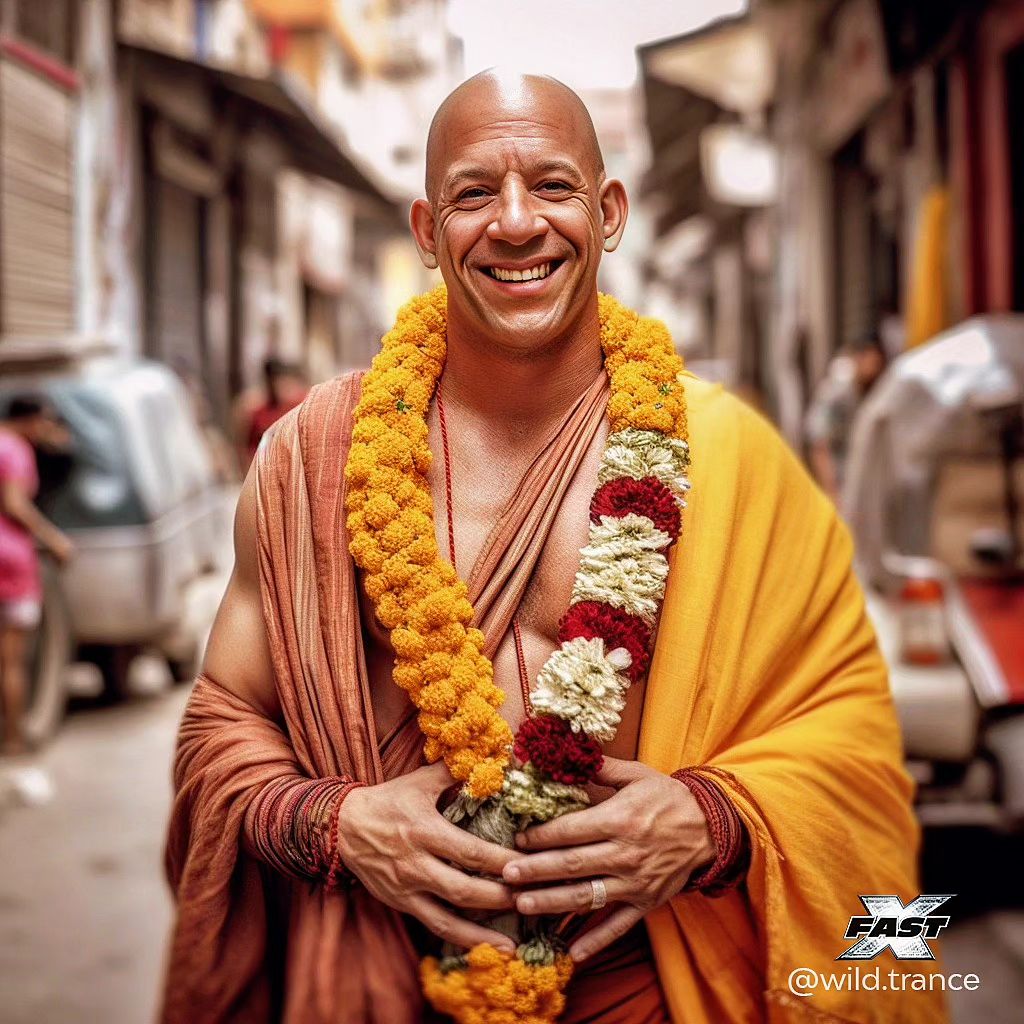 It's like he's auditioning for the role of the "King of Garlands." Who needs a red carpet when you've got a floral masterpiece adorning your entire torso? We've got to hand it to Vin; he knows how to make an entrance! Let's say he's certainly making a statement – a hilariously oversized one!
Paul Walker
Get ready to see the serene beauty of Paul Walker as he sits beside a tranquil river bank, wearing a gentle smile on his face. Embodying tranquility, he holds his hands together in a traditional symbolic gesture in front of a plate adorned with flickering candles.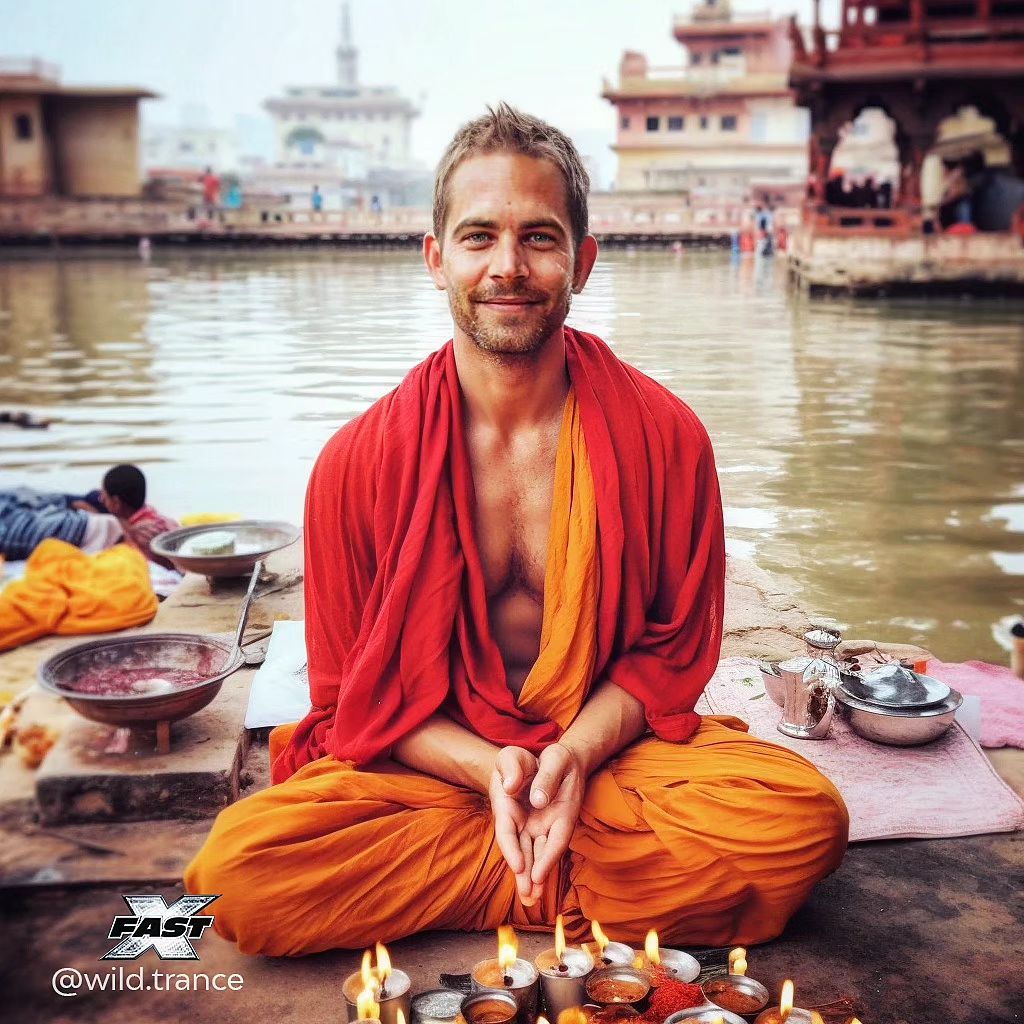 The flickering candles on the plate add a touch of spiritual symbolism, illuminating the path of inner contemplation. Walker's hands held together in a traditional gesture evoke a sense of connection to ancient wisdom and a deep appreciation for the sacredness of the moment.
Charlize Theron
Prepare to be enchanted by the breathtaking beauty of the Hollywood sensation Charlize Theron as she embraces the vibrant spirit of India draped in an exquisite orange saree. Charlize, her saree intricately wrapped around her, exuding elegance and grace that rival the stars in the night sky. She wears a delicate flower garland, adorning her like a queen of the festive celebration.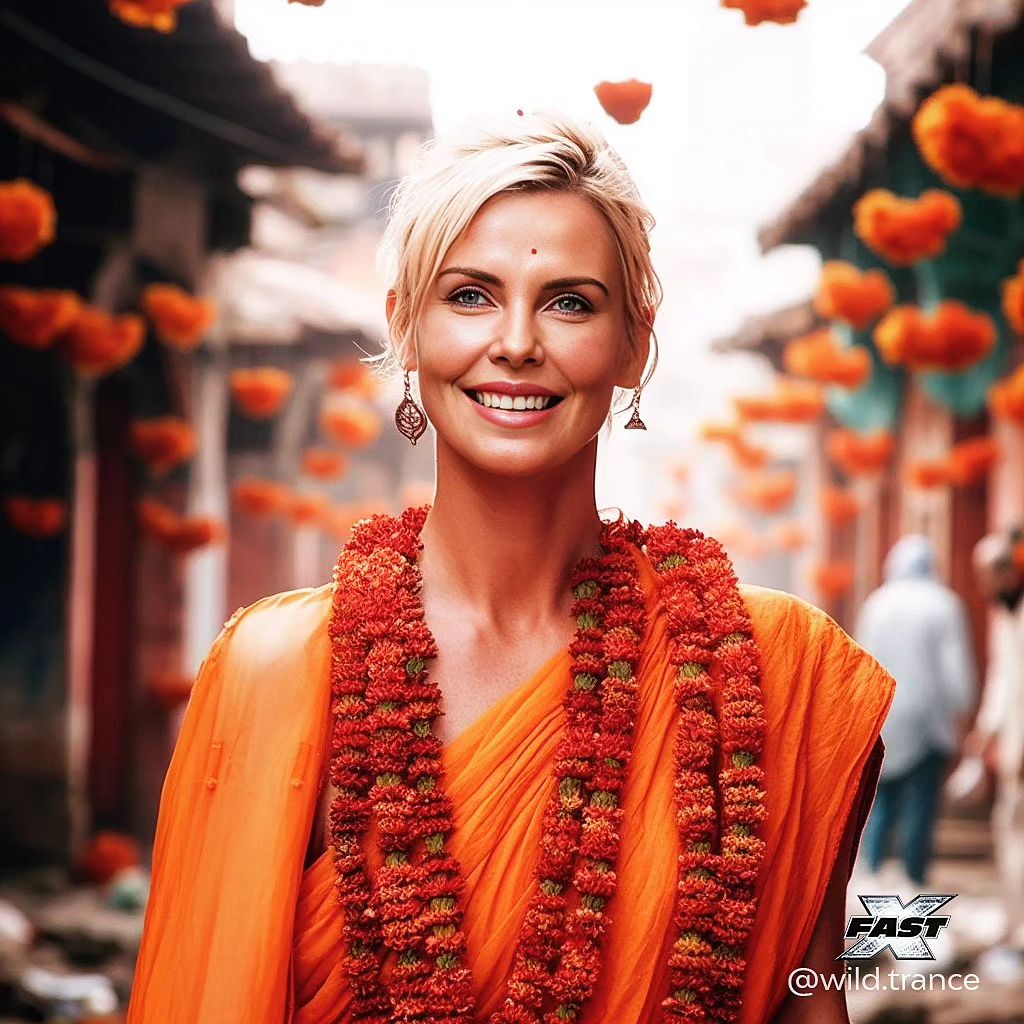 As Charlize graces the scene, her presence becomes a captivating blend of Hollywood glamor and traditional Indian charm. The orange saree accentuates her radiant complexion, while its intricate draping accentuates her statuesque figure, turning heads with every step she takes.
Robert Downey Jr.
Watch the sophisticated transformation of Hollywood giant Robert Downey Jr. into a dapper monk. Known for his charismatic persona, suave, and sense of style, he still oozes panache even without designer labels. Here he dons a simple brick-red Punjabi typical in the streets of India.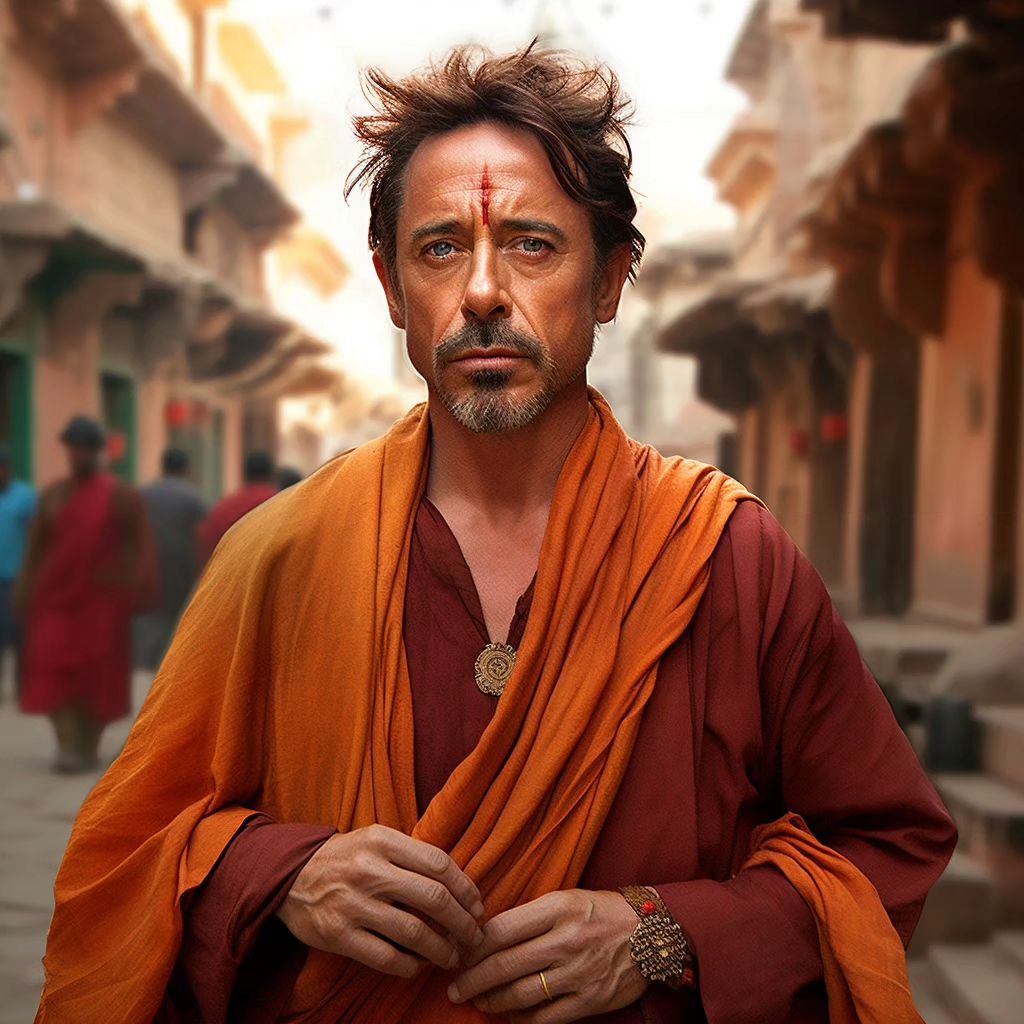 With his impeccable fashion sense and effortless charisma, he symbolizes sophistication and radiates peace within. Iron Man Downey becomes a fusion of the traditional and modern, the past and the present. Is it hard to imagine him giving up a lavish lifestyle for simplicity?
Bill Gates
Hold on to your keyboards, folks, because we've stumbled upon an extraordinary revelation that will make your tech-loving heart skip a beat! Bill Gates, the tech titan himself, is fully immersed in the jubilant spirit of Holi, sporting a smile as bright as a motherboard and drenched in a sea of radiant red Holi color!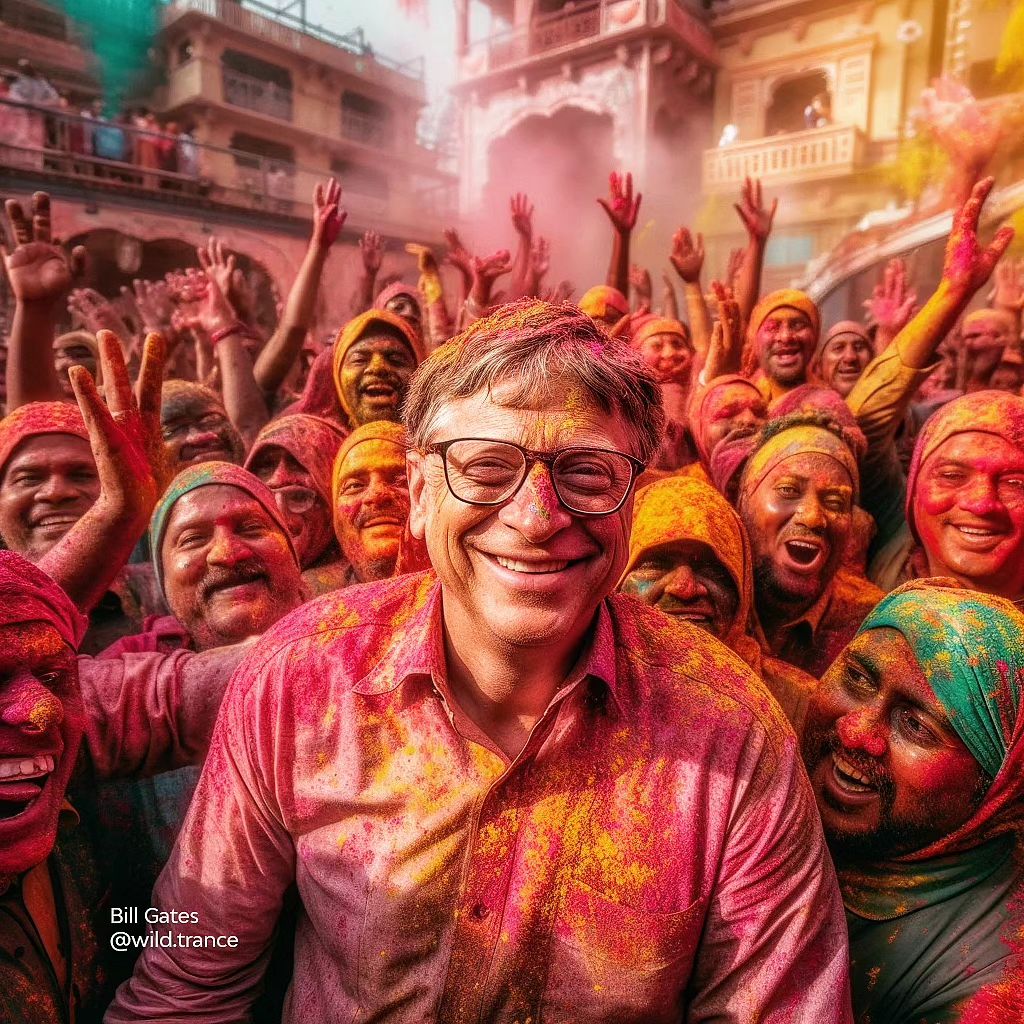 The genius behind Microsoft is surrounded by an excited crowd, grinning from ear to ear as he joyfully embraces the festivities. Who would have thought that the man responsible for revolutionizing personal computing would find solace in the chromatic chaos of Holi? But there he stands, radiating pure bliss, his billionaire status momentarily forgotten amidst the mirthful madness.
Emma Watson
Emma Watson, known for her beauty and grace, embraces the clam presence of a monk, radiating an ethereal aura that captivates all who behold her. Her intricate jewelry, carefully chosen to complement her attire, adds a touch of sophistication to her already mesmerizing presence.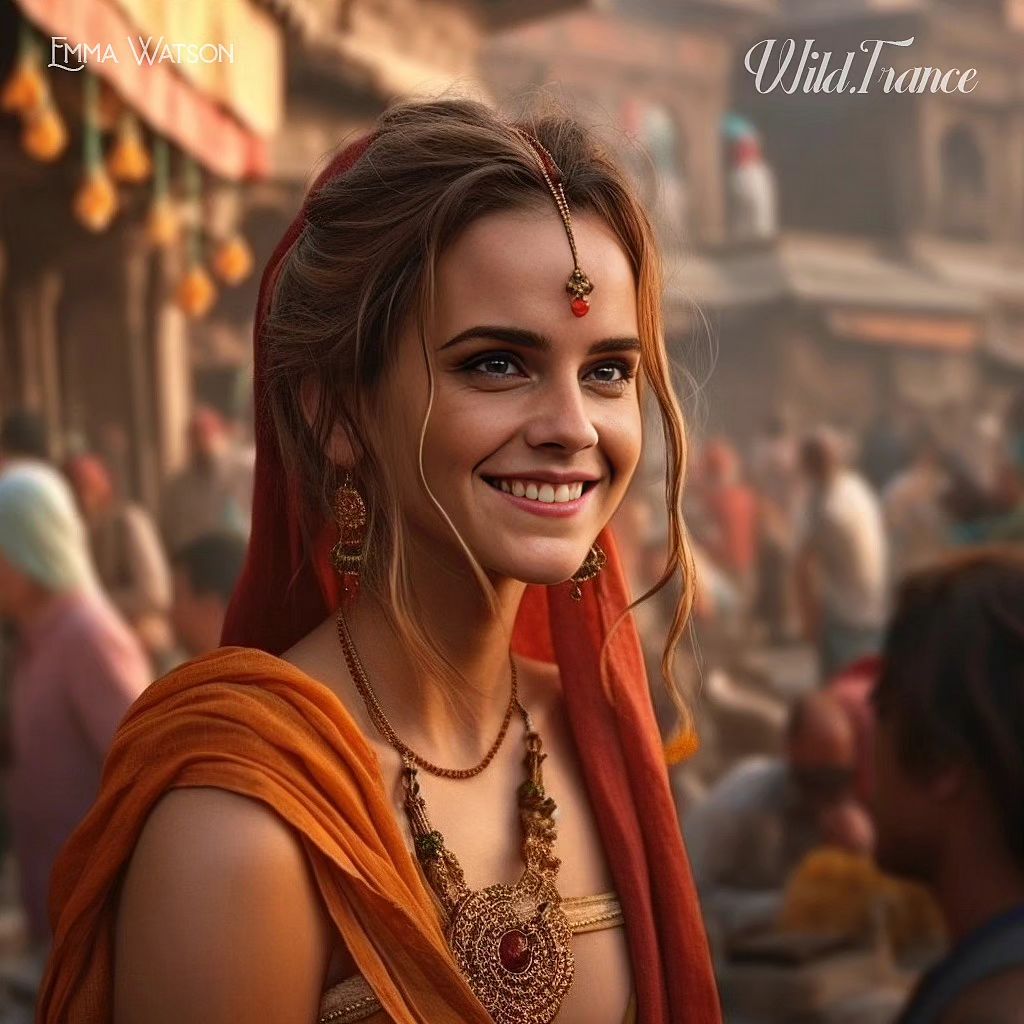 As Emma Watson embraces her role as a gorgeous monk, she becomes a vision of serenity and beauty. Each piece of intricate jewelry she wears serves as a reminder of the sacredness of the moment and highlights her impeccable sense of style.
Jennifer Aniston
Jennifer Aniston, known for her beauty and comedic timing, gracefully drapes herself in orange fabric, ready to spread joy and enlightenment. With a smile that could brighten the darkest of meditation rooms, she becomes the monk everyone wants to sit next to at the monastery's comedy night.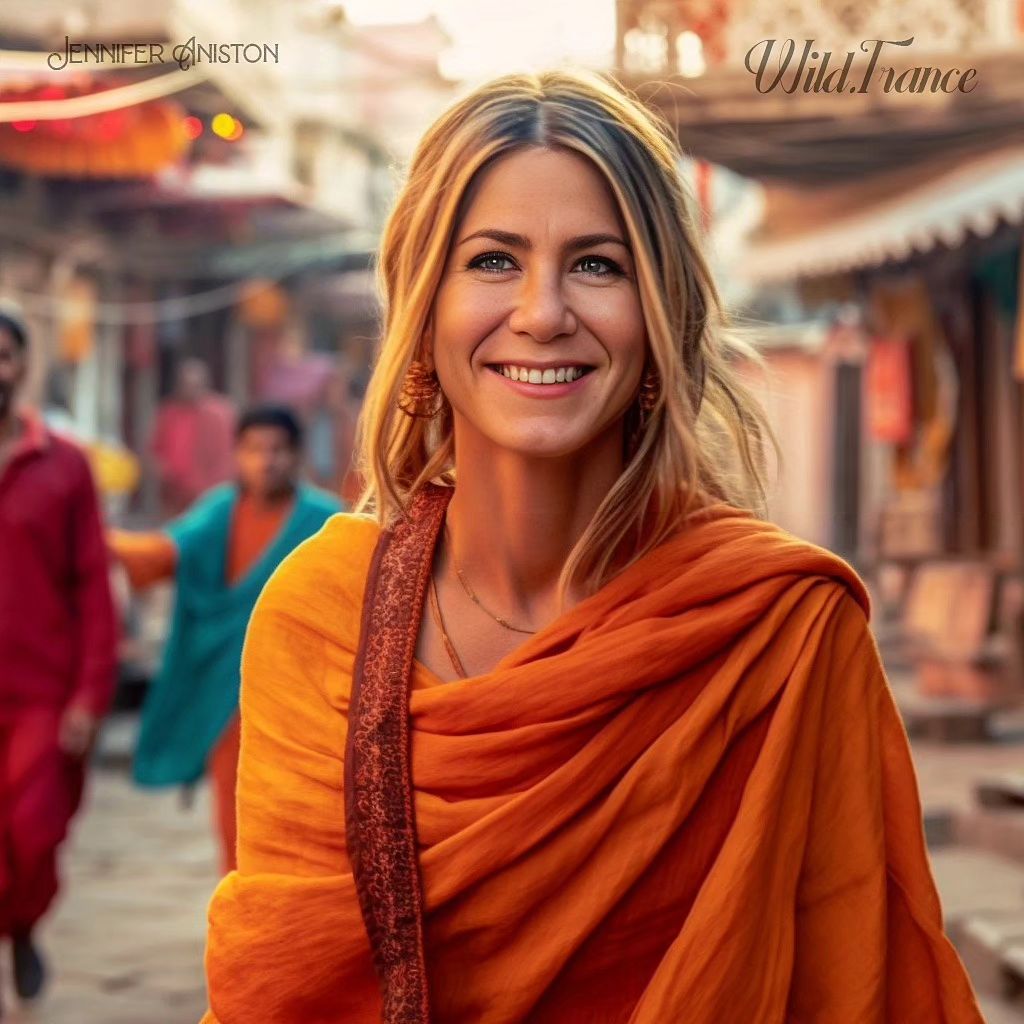 As Aniston embraces her role, her wise and jolly persona perfectly blends serenity and hilarity. You can almost hear her whispering profound words of wisdom one moment, only to crack a joke that has everyone in stitches the next. Who knew enlightenment could come with a side of laughter?
Natalie Portman
With her infectious cheer and youthful energy, Natalie dons a monk's robes with a mischievous sparkle in her eye. She's like the class clown of enlightenment, turning meditation sessions into a giggling frenzy and transforming serene chants into a karaoke extravaganza.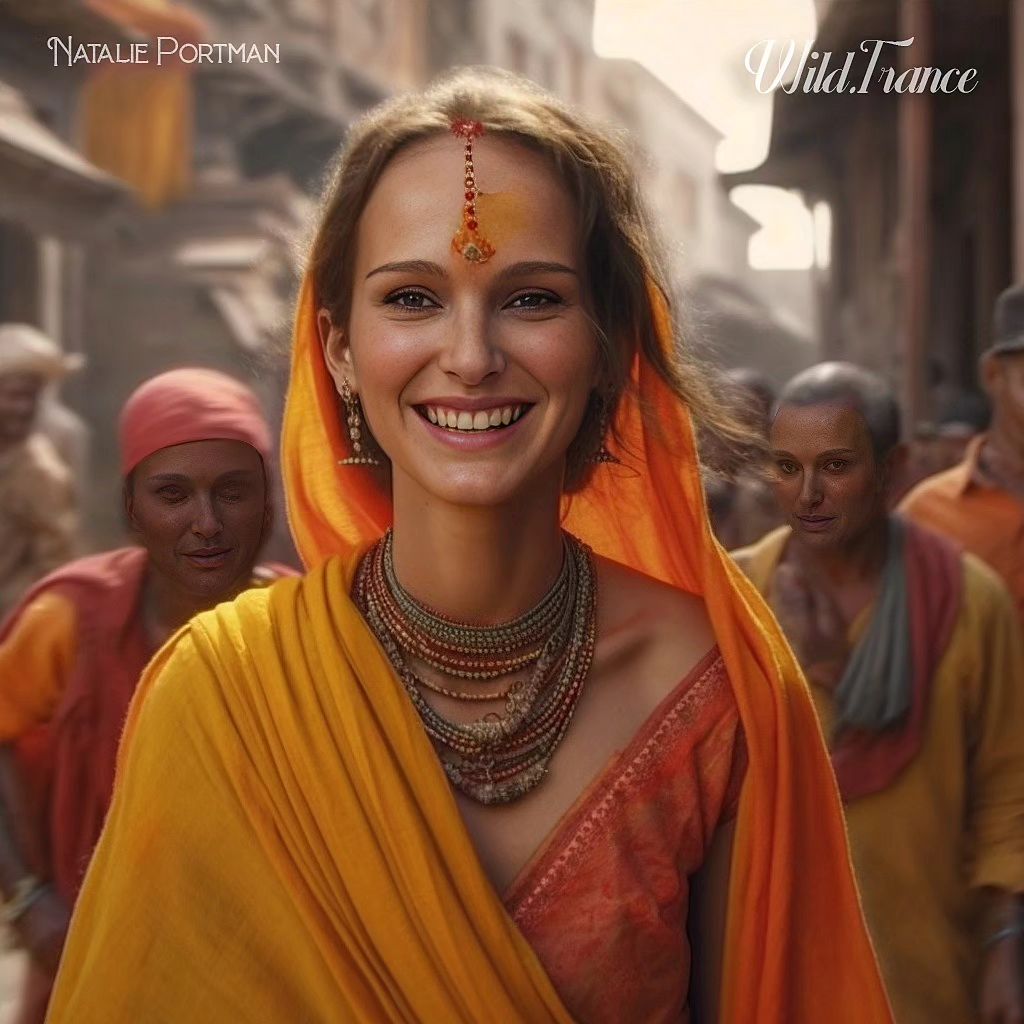 With each levitating leap and graceful somersault, Natalie Portman proves that being a monk doesn't mean losing your sense of humor. She's like the comedic acrobat of the monastery, flipping through spiritual texts with one hand and juggling punchlines with the other.
Jennifer Lawrence
Jennifer Lawrence takes on the role of an Indian monk, radiating stoicism while embracing the quirkiest traditions! The actress, known for her infectious energy, transforms right before our eyes, with a marigold garland adorning her with a touch of floral pizzazz.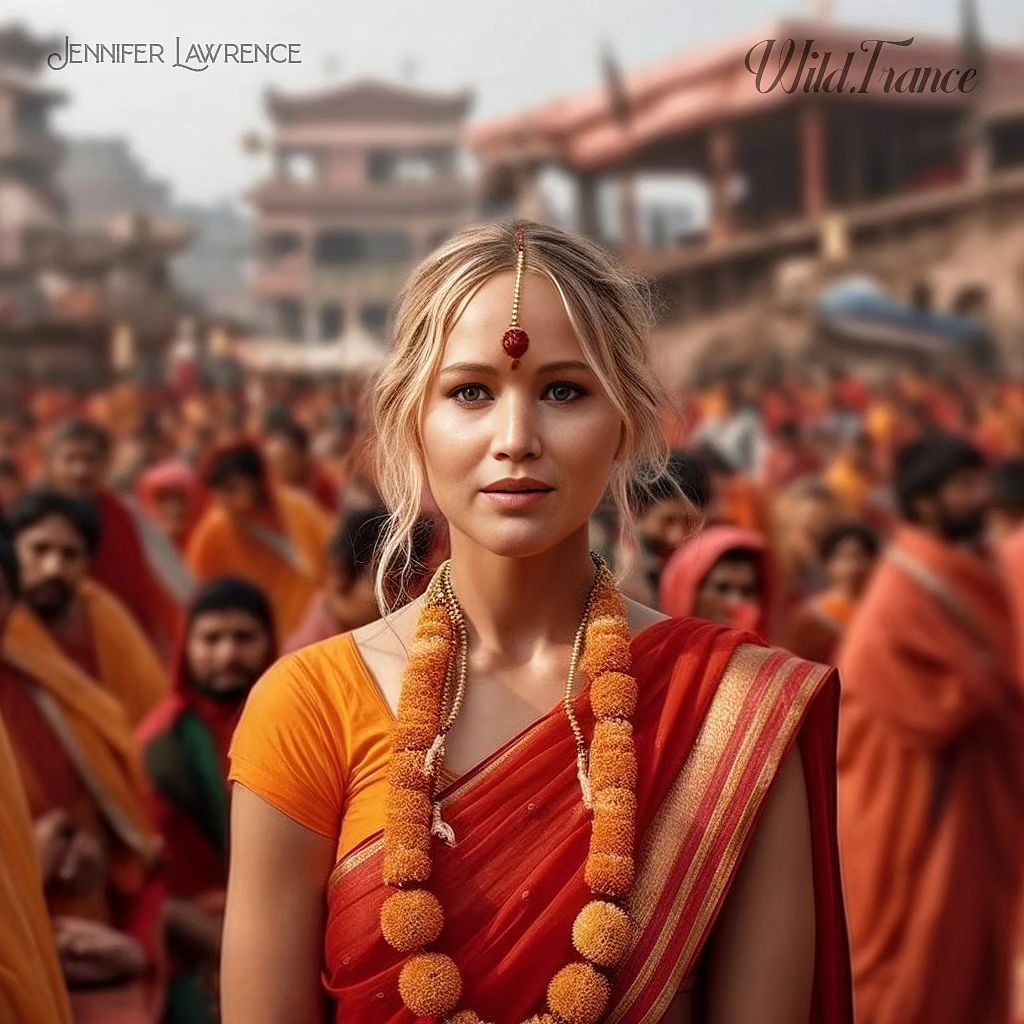 With her determined gaze and unexpected calm, she brings a new level of quirkiness to the monastery. As she dons the garland of marigolds, she becomes a symbol of serenity with a side of whimsy. It's like she's silently telling the world, "I may be a monk, but I can still rock those vibrant colors and own the floral accessory game!"
Scarlett Johansson
Scarlett Johansson immerses herself in the role of an Indian monk, blending seamlessly with a sea of serene practitioners! Known for her mesmerizing beauty, she embraces her new role, her hands clasped together in a traditional greeting.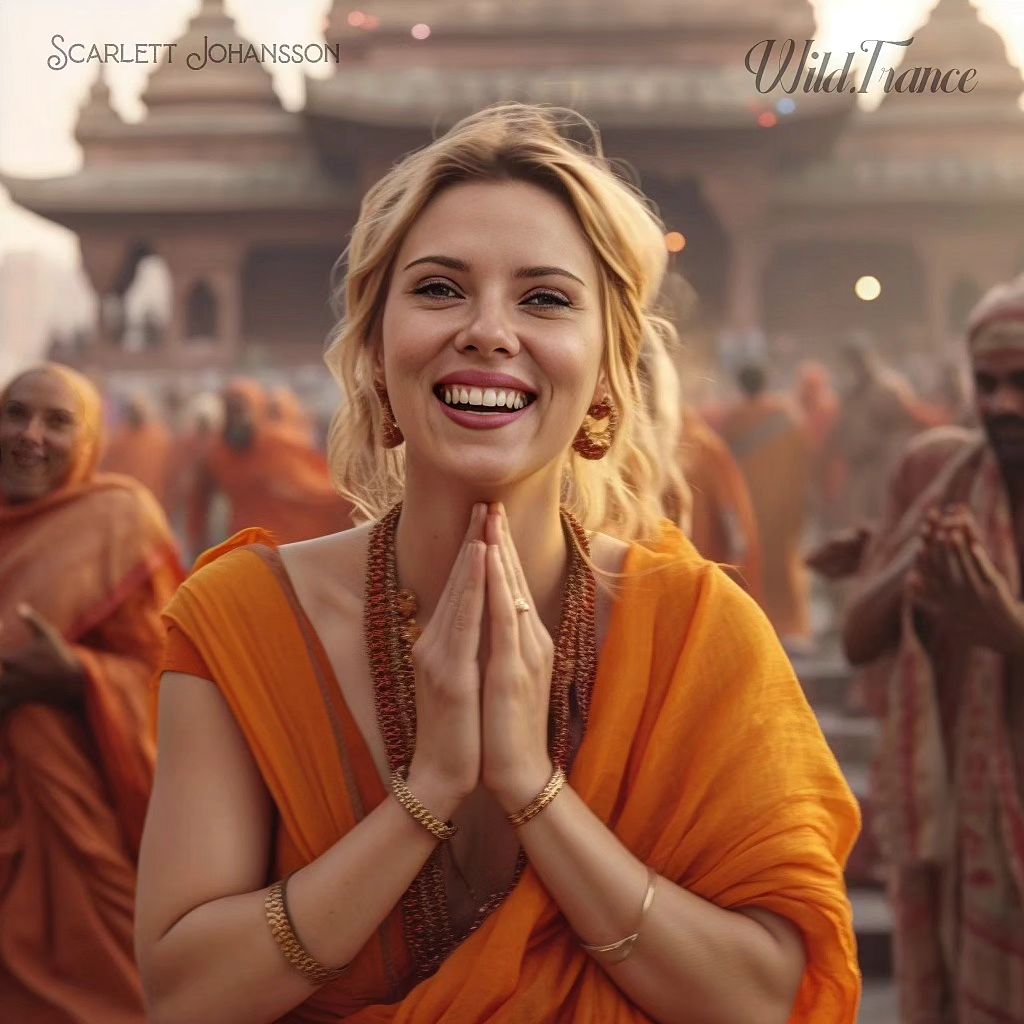 With a radiant smile that lights up the surroundings, she effortlessly blends in with a sea of other monks, creating a harmonious visual spectacle. Her presence adds a touch of intrigue and fascination to the scene, like a star from another galaxy mingling with the celestial beings of tranquility.
Salma Hayek
Prepare to be enchanted as Salma Hayek dons a stunning red saree, exuding the aura of a Bollywood queen with her unparalleled grace and beauty. She embraces the vibrant colors of India in her clothing. With every movement, she radiates a regal charm.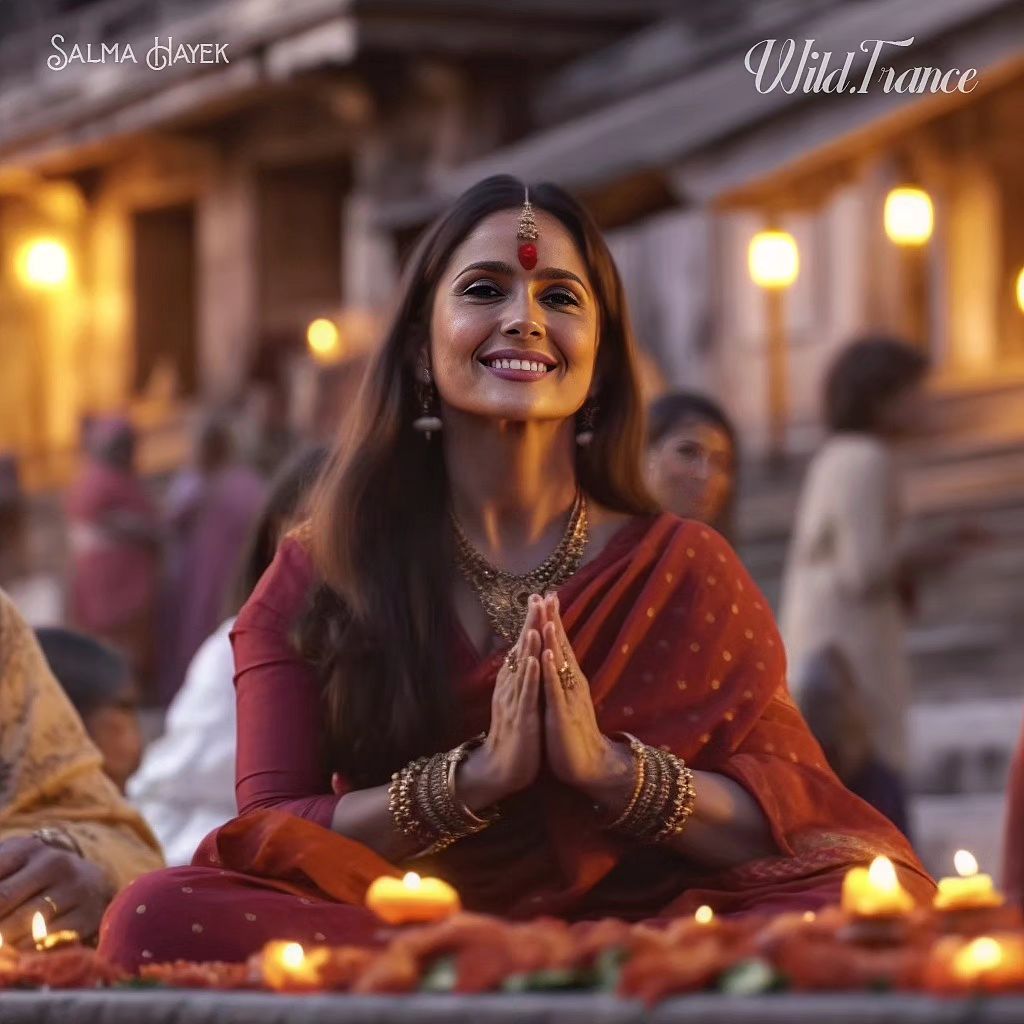 As Hayek adorns traditional jewelry, including beautiful bangles that accentuate her graceful gestures, she becomes a symbol of timeless beauty and cultural richness. Her hands are clasped together in a prayer pose, adding an air of reverence to her demeanor.
Zendaya
Get ready to be captivated by the enchanting presence of Zendaya as she immerses herself in a moment of prayer. She exudes a captivating aura as she sits gracefully. Her serene expression and posture reflect a deep connection to her spiritual side.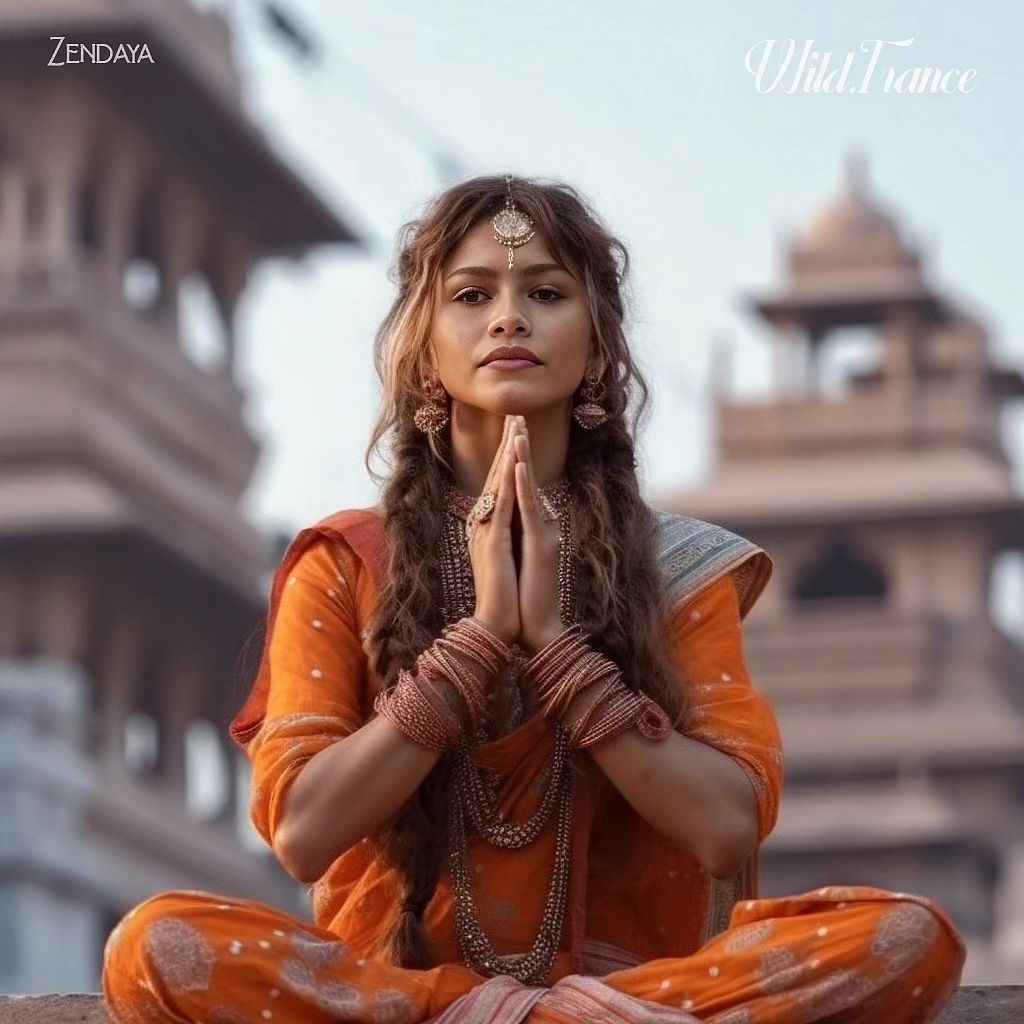 As Zendaya embraces her traditional beauty, she becomes a symbol of grace and elegance. Every movement she makes seems imbued with a touch of magic as if she has stepped out of a fairy tale and into our world.
Emilia Clarke
Hold on to your meditation cushions because Emilia Clarke is about to rock the world of Indian monkhood with her vibrant smile and playful antics! The queen of dragons and now the queen of monkish mischief embraces her role with unruly flowing hair that adds a whole new level of flair.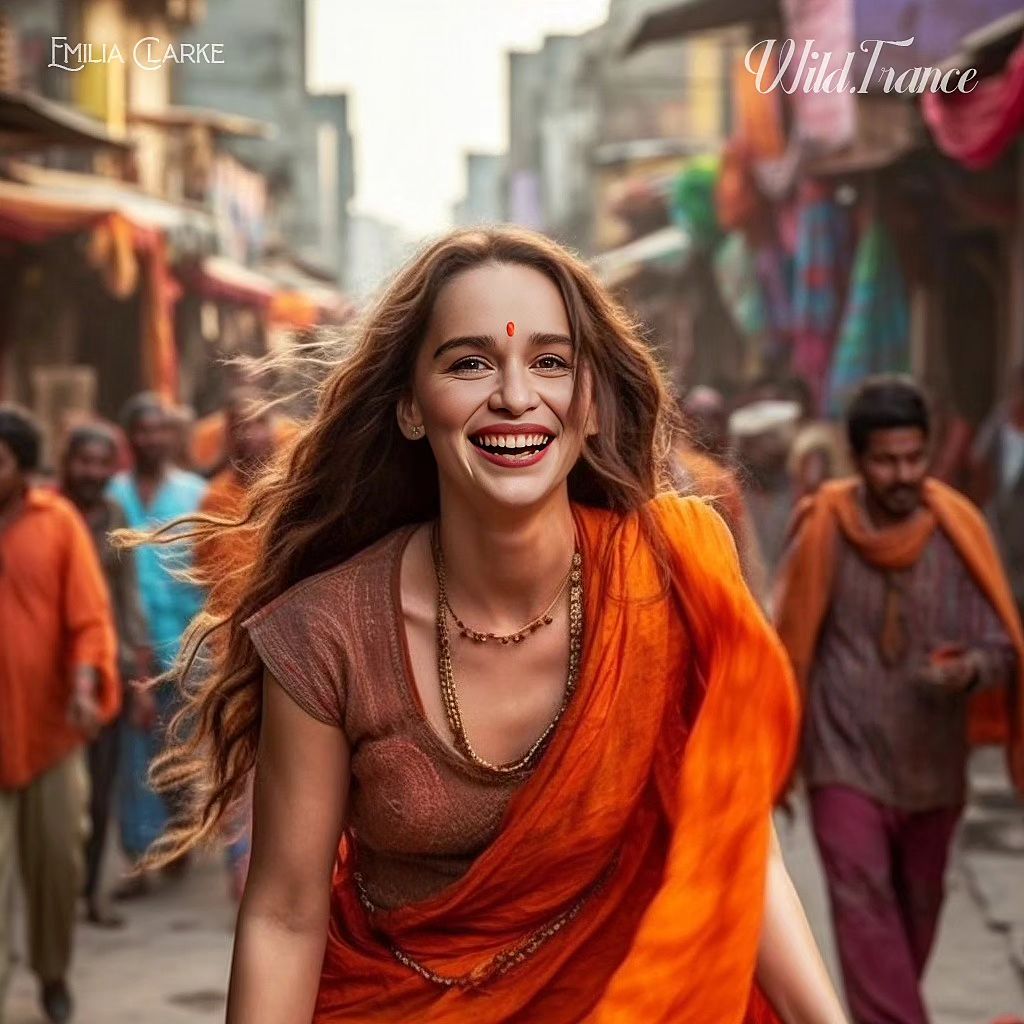 With a mischievous sparkle in her eyes, she's here to prove that enlightenment doesn't have to be serious business. As Emilia embraces a new persona, she's like sunshine in the serene monastery. Her vibrant smile lights up the room, spreading laughter like confetti.
Charlize Theron
Get ready to bow down to the divine presence of Charlize Theron as she transforms into a vision of ethereal beauty, resembling a Hindu goddess in her mauve saree and complementing flower garland. Renowned for her elegance and grace, she effortlessly embodies the essence of a celestial deity.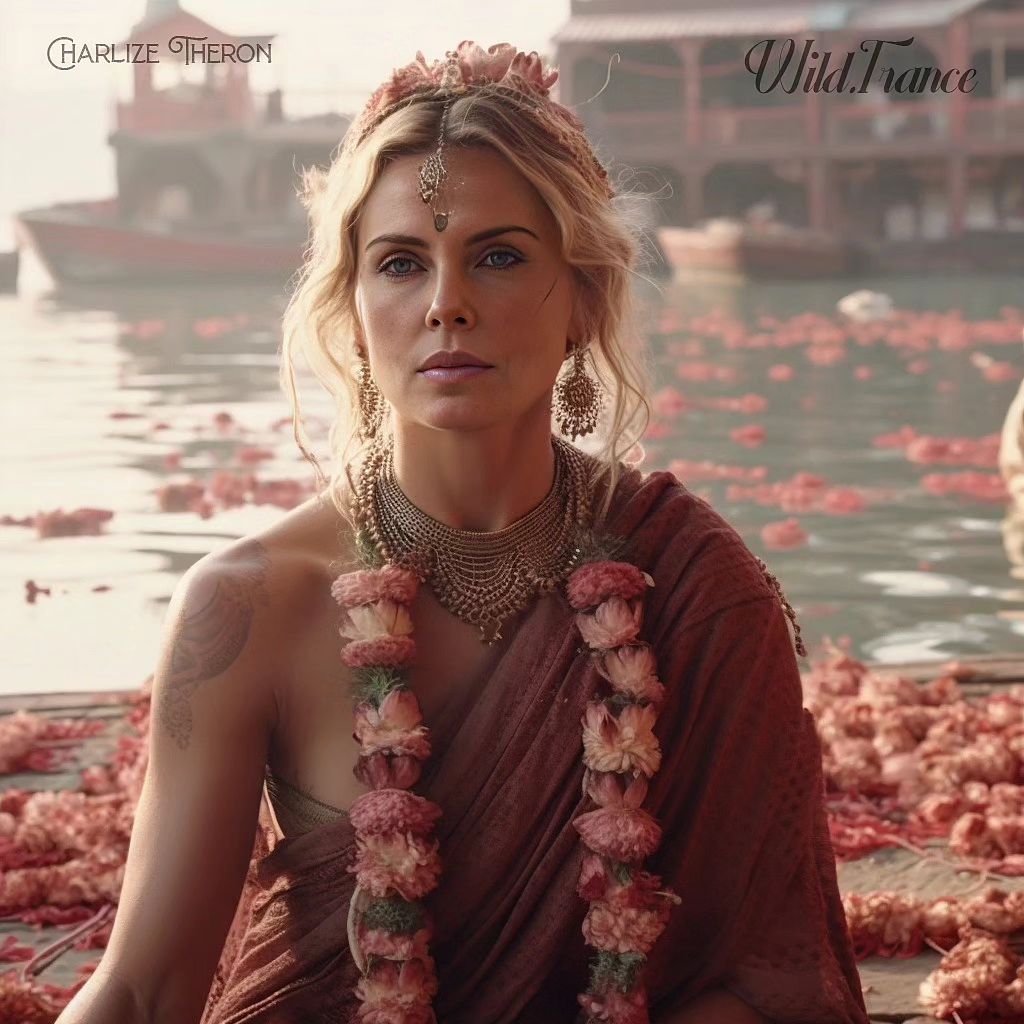 Every fold and pleat adds to the cohesive allure of her divine ensemble. The color harmoniously blends with her radiant aura, making her resemble a living embodiment of grace and poise. The complementing flower garland further accentuates her ethereal charm, as if she has stepped straight out of a celestial realm.
Elon Musk
Hold on to your rockets because Elon Musk is about to turn heads with his bold fashion choice—a maximalist golden Punjabi that screams "out of this world!" Elon Musk, the visionary entrepreneur, strutting his stuff at an Indian function, rocking clothing that shines brighter than the sun itself.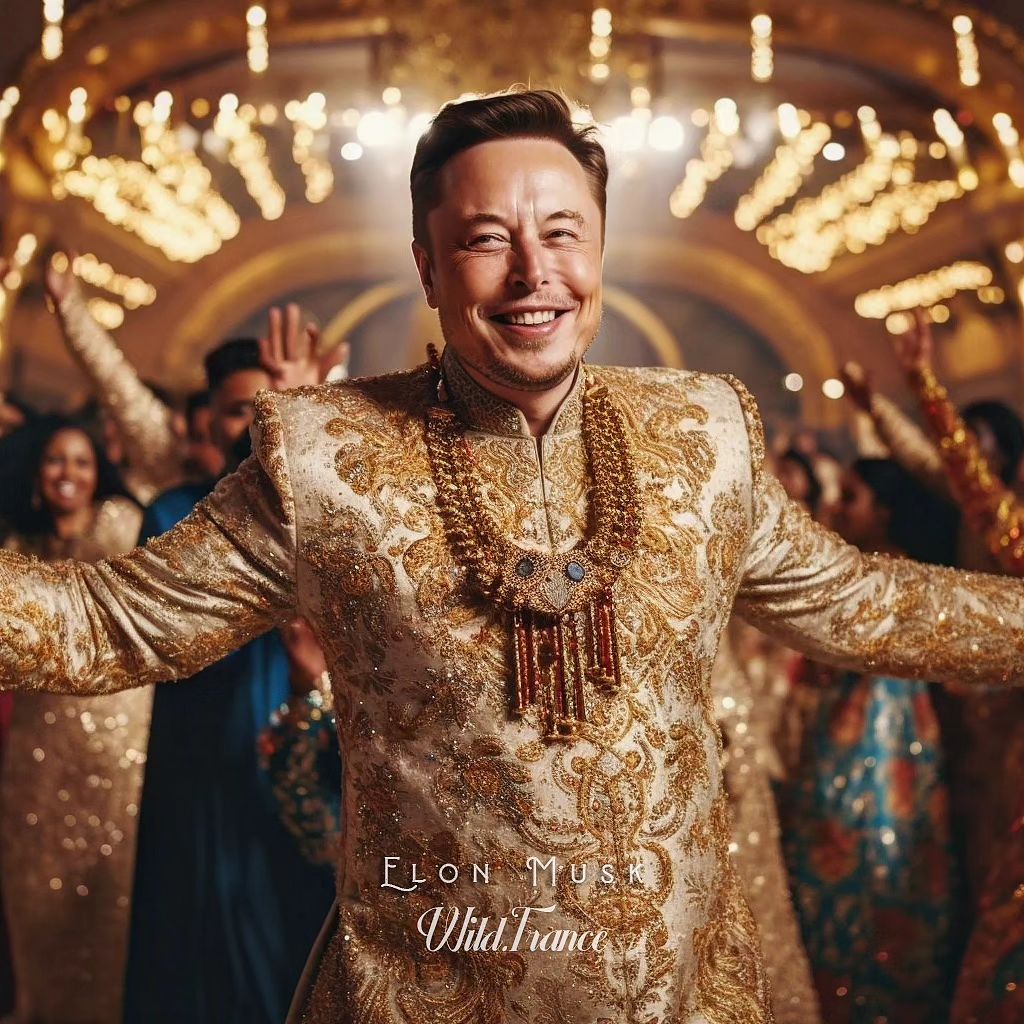 It's like he's saying, "Who needs spacesuits when you can dress like a golden superhero?" As Musk immerses himself in the vibrant atmosphere of the Indian function, one can't help but wonder if he's secretly planning to launch a Tesla-powered rocket on the dance floor.
Mark Zuckerberg
Hold onto your "likes" because Mark Zuckerberg is ready to make a splash at a Hindu function, sporting a red vest over his Punjabi and a flower garland that screams "It's my own wedding but without the bothersome privacy settings"!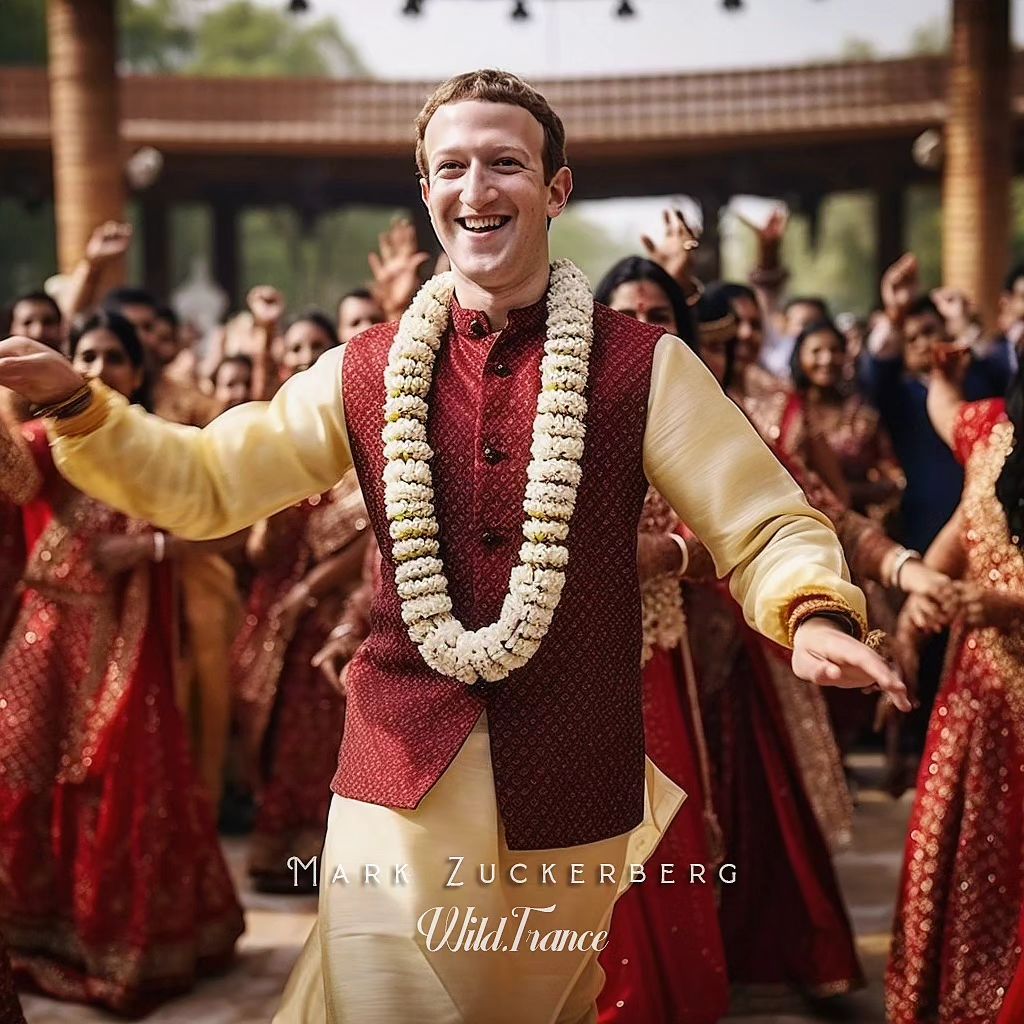 The tech titan, embracing the festivities with his unique sense of style has us wondering if he's about to launch a new social media platform or join a Bollywood dance troupe. It's hard not to imagine him applying his algorithmic genius to calculate the perfect dance moves.
Jeff Bezos
See Jeff Bezos in a new light as he lets loose and joins the jolly folks at an Indian ceremony, laughing his heart out and busting moves on the dance floor like nobody's watching. The titan of e-commerce, surrounded by a group of ecstatic dancers, unleashes infectious laughs that could rival the Amazon rainforest in sheer volume.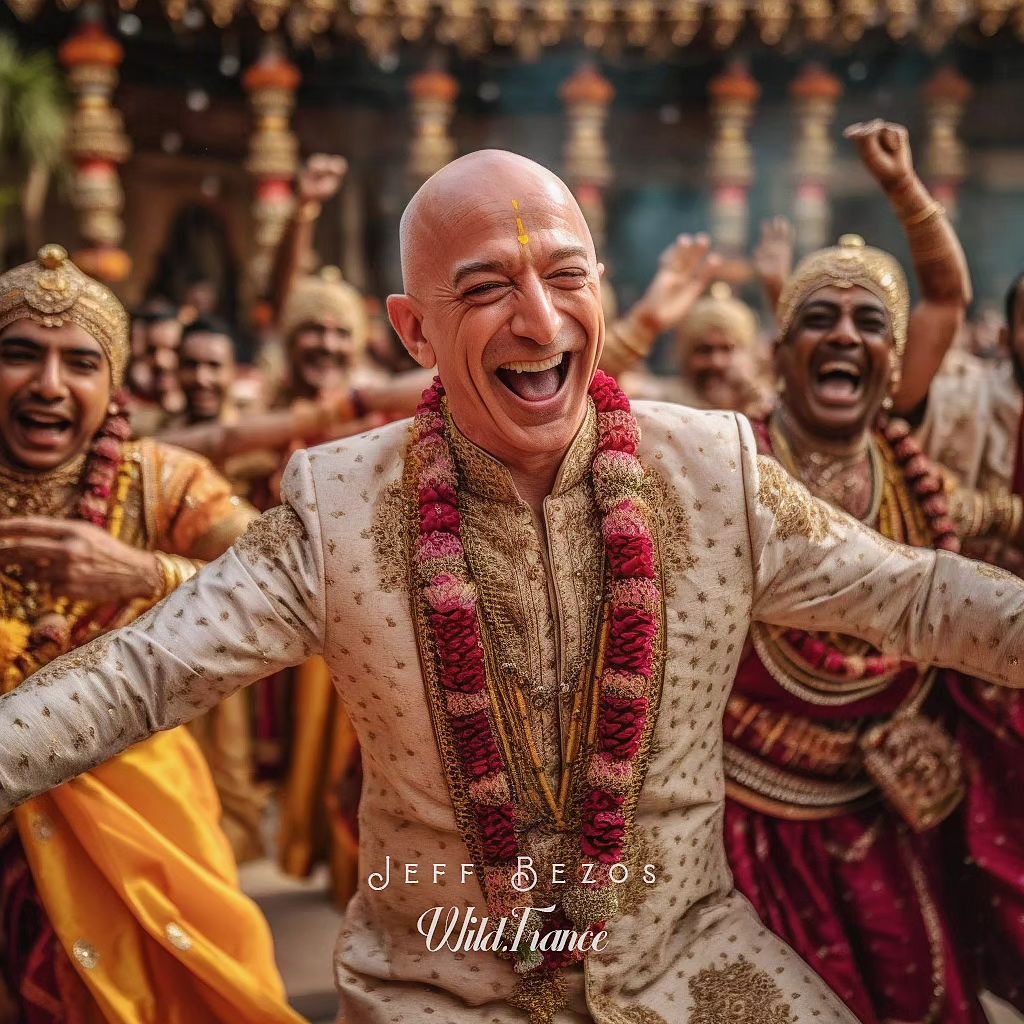 The launch of "BezoBoogie" is at hand, a dance style that promises one-day delivery of synchronized steps and same-day delivery of contagious laughter. Who knows, after all, Jeff is a man who puts precision and forethought into everything he does.
Warren Buffett
Witness the financial legend Warren Buffett breaking all financial records as he wholeheartedly immerses himself in the joy of an Indian celebration. The Oracle of Omaha, trading stocks for dance steps and embracing the festivities with an enthusiasm that could rival the rise of a bull market.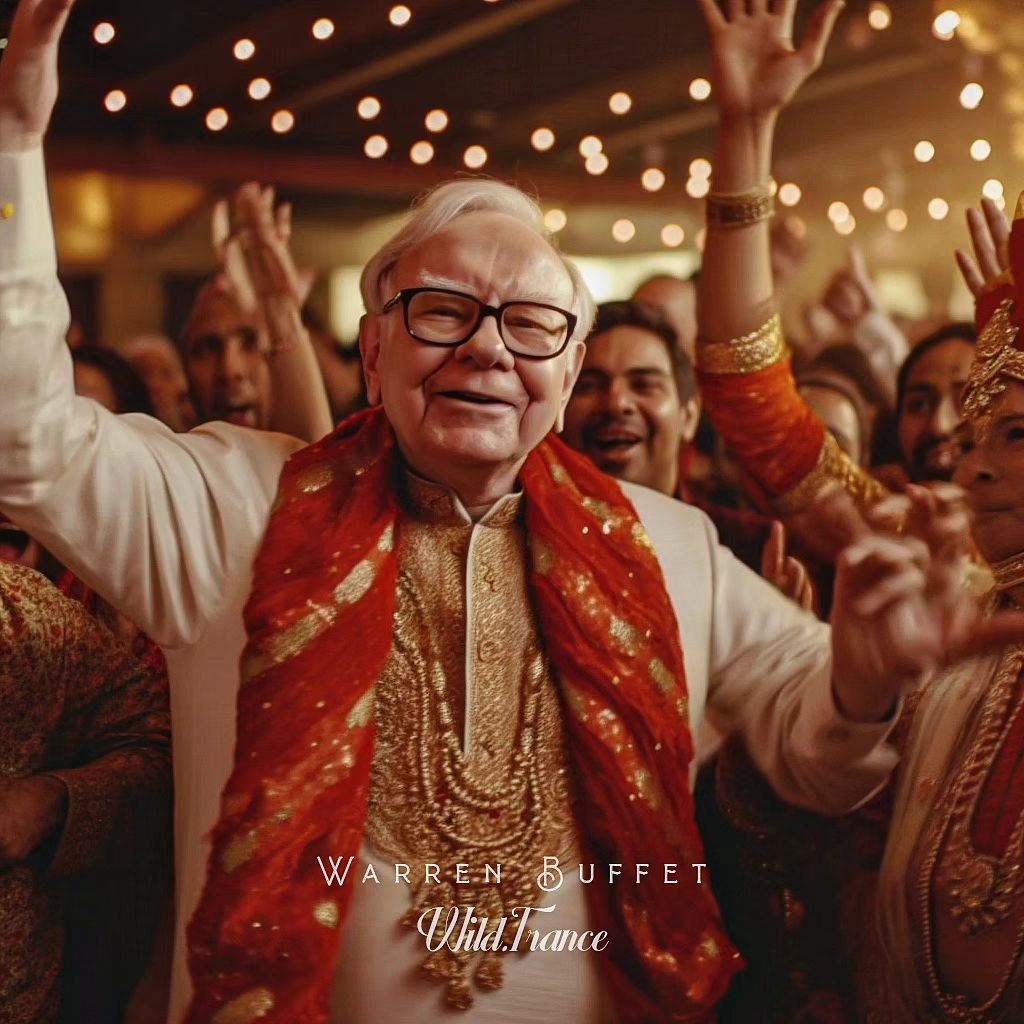 As Buffett lets loose and joins the revelry, it's as if he's discovered the secret to eternal happiness, and it's not just about compound interest. With each hearty laugh and every dance move, he proves that investing in joy can yield infinite returns.
Tom Cruise
Tom Cruise is about to take on a role like never before, embracing the monastic life with his trademark intensity and a dash of Hollywood charm. The action superstar is trading in his stunts for serene meditation sessions as he transforms into a monk with a twinkle in his eye and a mission to make enlightenment go viral.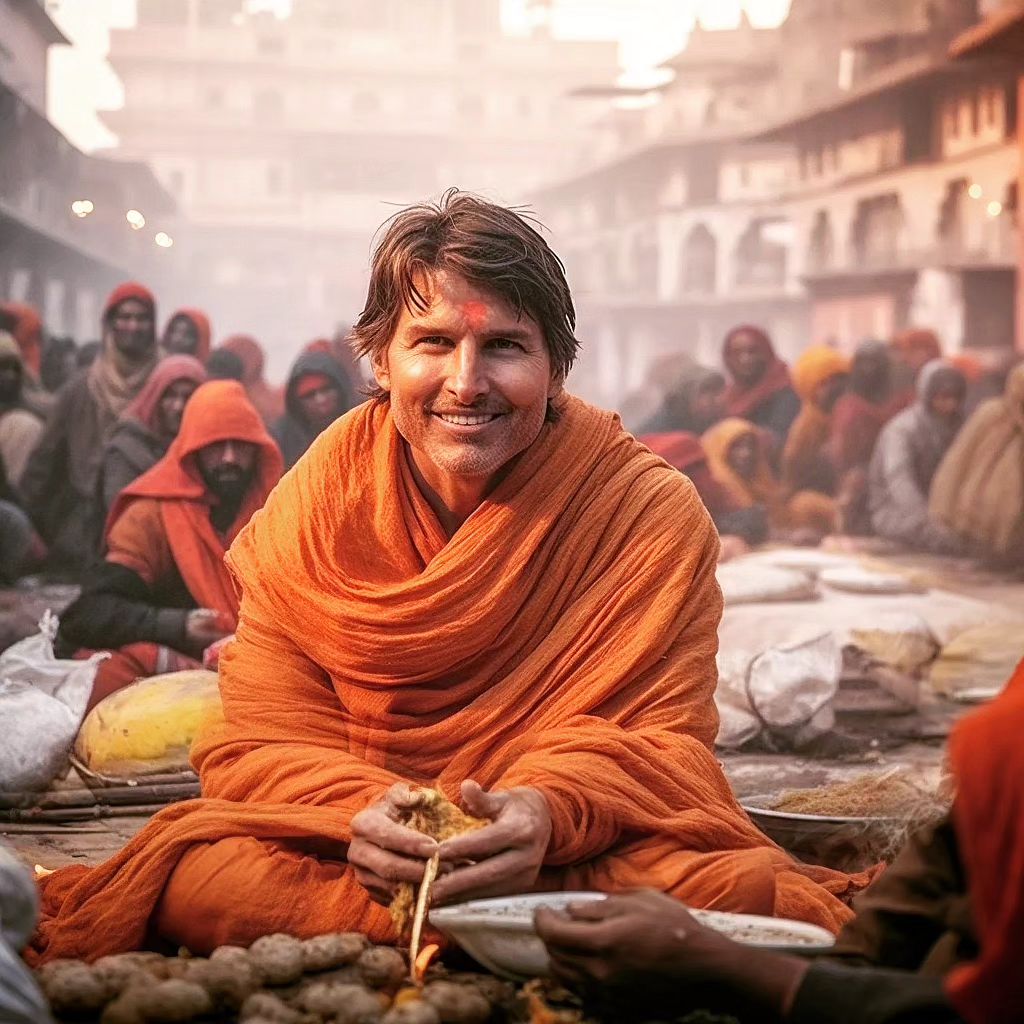 Cruise fully immerses himself in the monk persona; you can almost hear him saying, "I feel the need… the need for inner peace!" With each disciplined breath and perfectly executed meditation pose, he's on a mission to prove that even the most high-octane celebrities can find their Zen.
Tom Hanks
Sporting white hair and a beard that has seen better days, Tom Hanks takes on the role of a troubled monk. The beloved actor donned the robes of a monk with a look of bewilderment and mischief in his eyes. It's like he's saying, "Life is like a box of mantras; you never know what you're gonna chant!"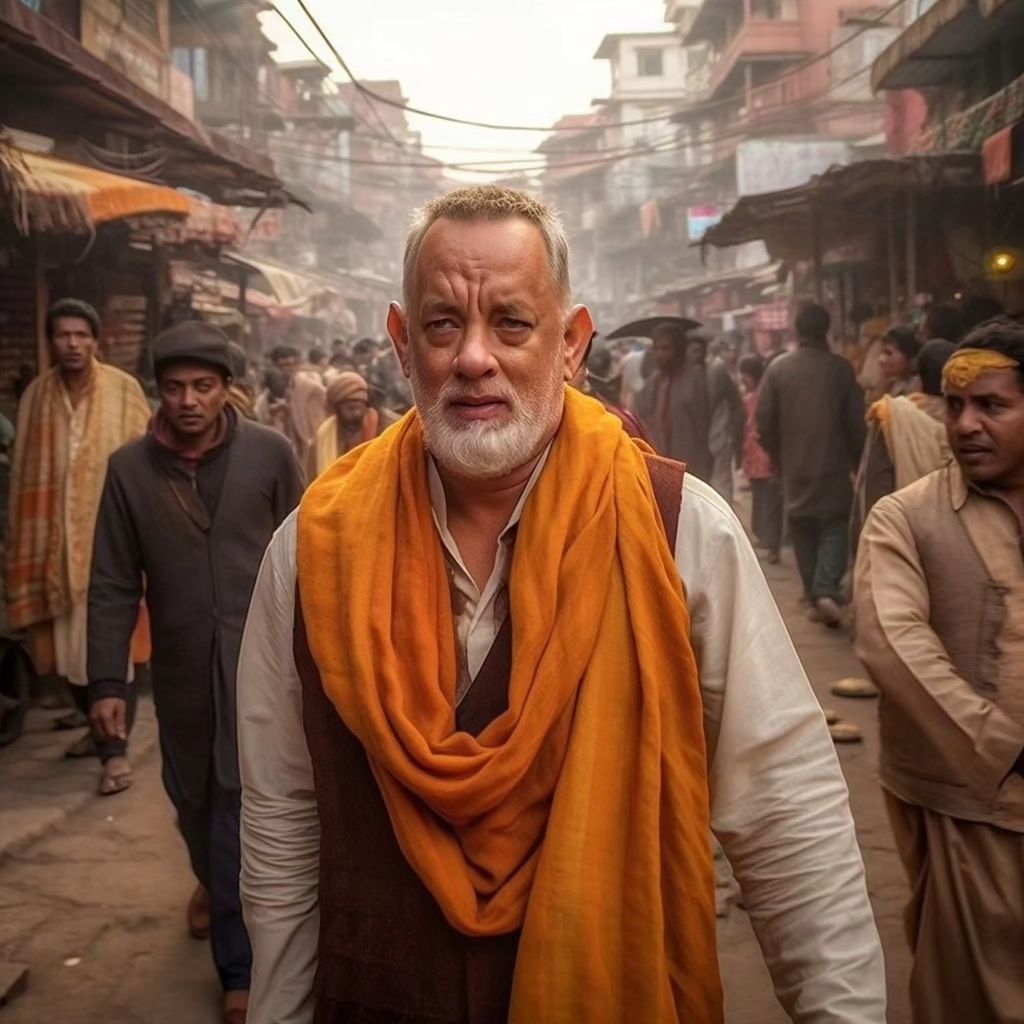 You can almost hear him whispering, "Help! I've meditated, and I can't get up!" With each furrowed brow and every contemplative sigh, he brings a touch of comedy to the monastery, proving that even in the pursuit of inner peace, a little comedic relief goes a long way.
Vin Diesel
Vin Diesel, the action superstar, embraces his monkhood with an unmatched blend of brawn and spirituality. With each flex of his mighty muscles and every powerful mantra he recites, he's here to prove that enlightenment can be as diesel as his name suggests.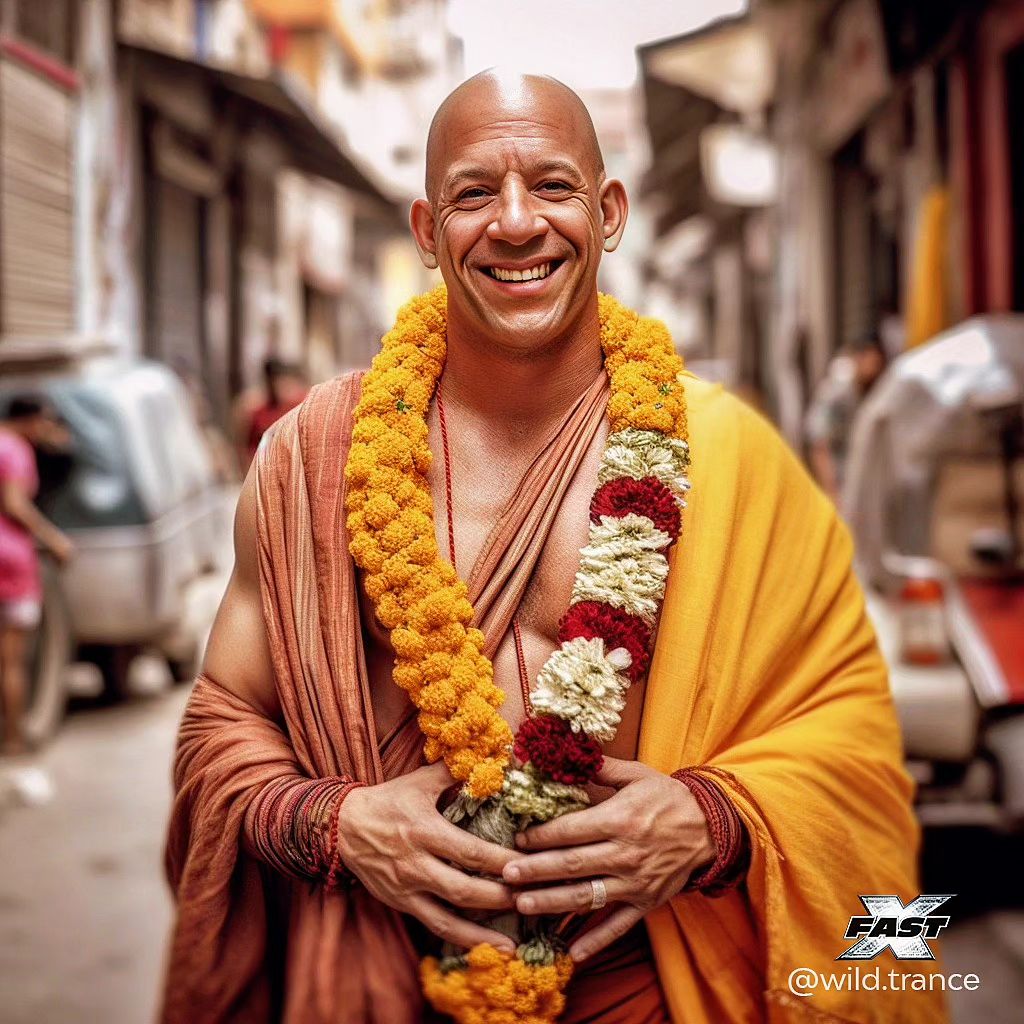 As he dons his humble attire, he says, "I am Groot… and also a monk!" With his own unique flair, he brings a touch of Vin Diesel magic to the serene monastery, causing the statues to strike poses that could rival his famous Fast and Furious car stunts.
Will Smith
The Fresh Prince of Bel-Air, Will Smith, fully immerses himself in the colorful chaos of Holi with uncontainable joy. It seems like he dived headfirst into a sea of vibrant Holi colors, turning the festival into a whirlwind of laughter and happiness.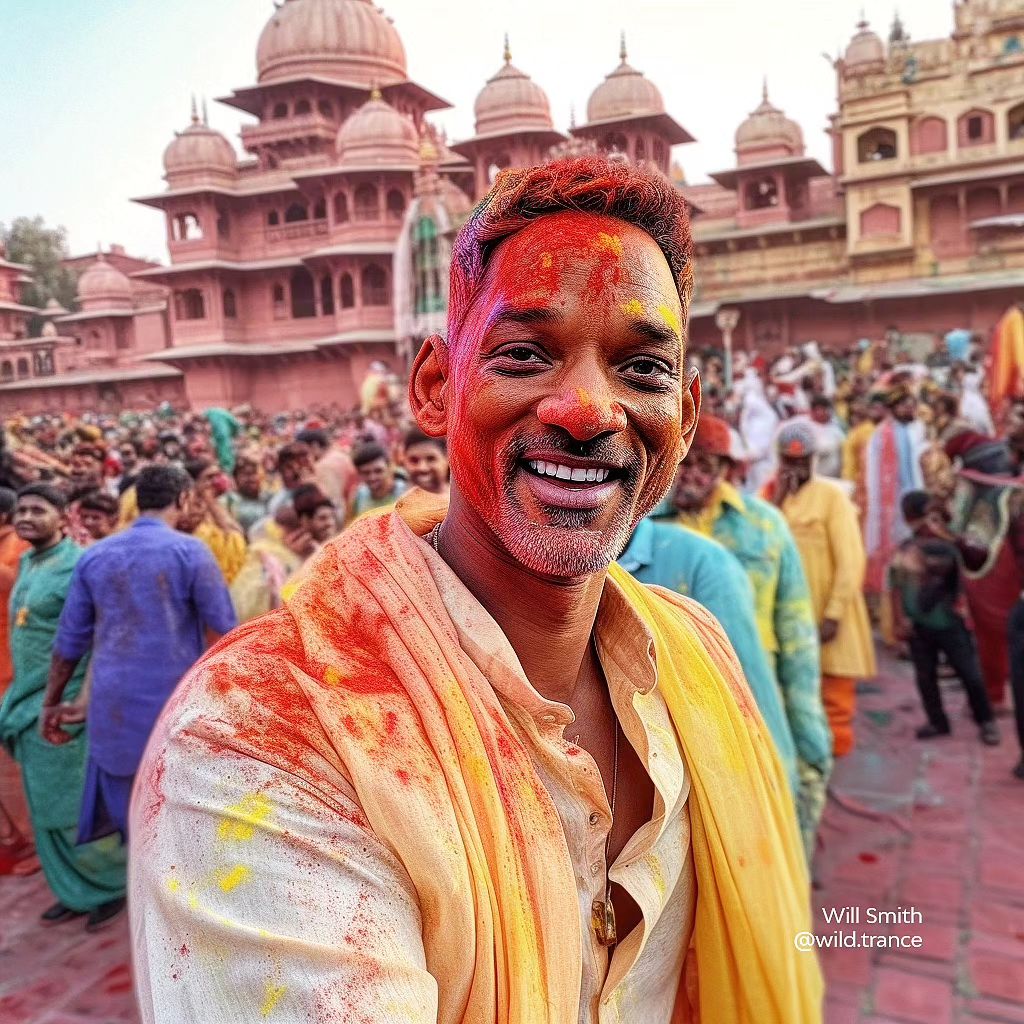 You can practically hear him saying, "Getting jiggy with it was fun, but getting colorful with it is a whole new level!" With each splash of color adorning his face and clothes, he radiates pure delight, reminding everyone that life is too short to take ourselves too seriously.
Albert Einstein
Stop the presses! We've uncovered a mind-boggling revelation that will make you see the iconic physicist Albert Einstein in a new light. Brace yourselves for a cheeky tale that transports the genius scientist to the vibrant world of Holi, where he embraces the festivities with open arms, donning a white Punjabi and a beaming smile.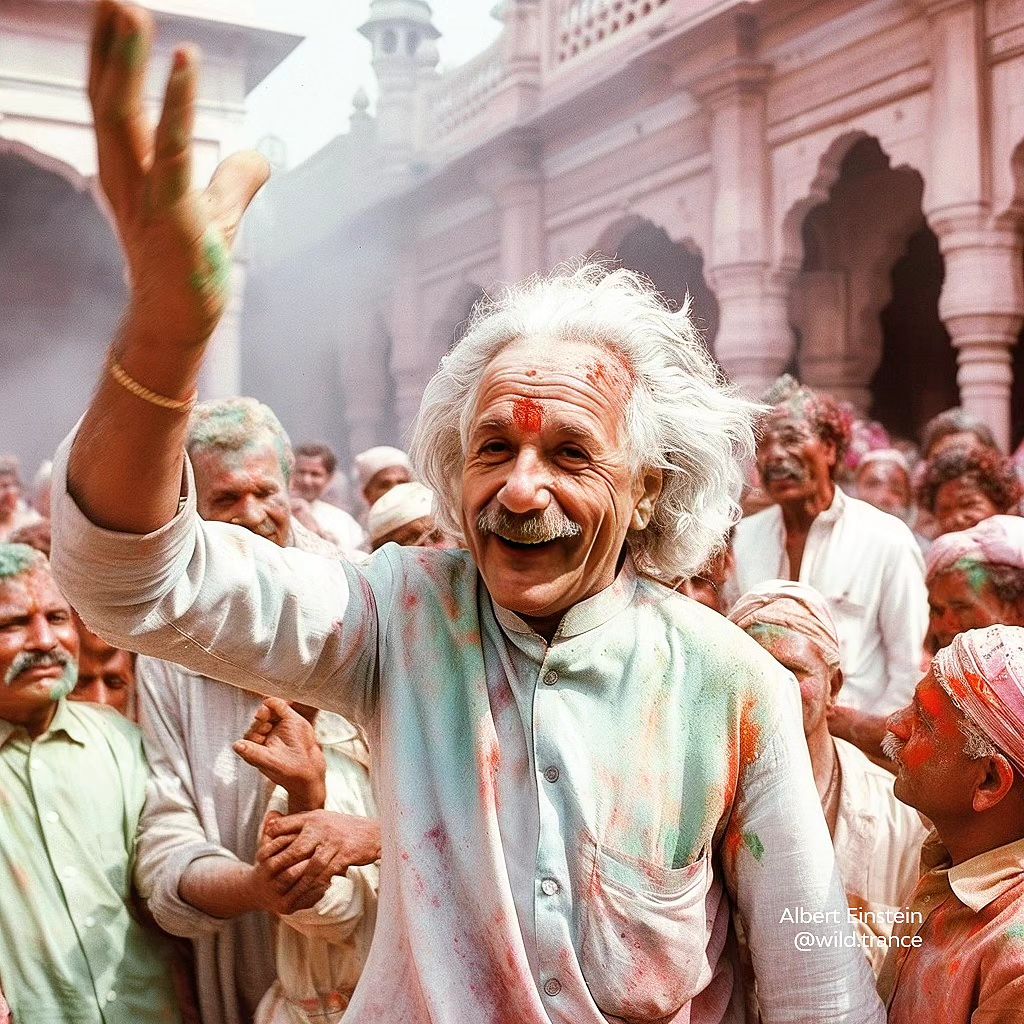 Imagine, if you will, the man who unraveled the mysteries of the universe, diving headfirst into a sea of colorful chaos. As Einstein joins the revelers, his wild white hair dances in the air, becoming a canvas for the splashes of vibrant powders. Who knew that E=mc² could also stand for Einstein enjoying merry chaos to the power of two?
Angelina Jolie
Angelina Jolie, the epitome of grace and sophistication, embraces her monk persona with an air of mystique and a mischievous glimmer in her eye. She adds a touch of elegance to the monastery by taking on the role with poise and class.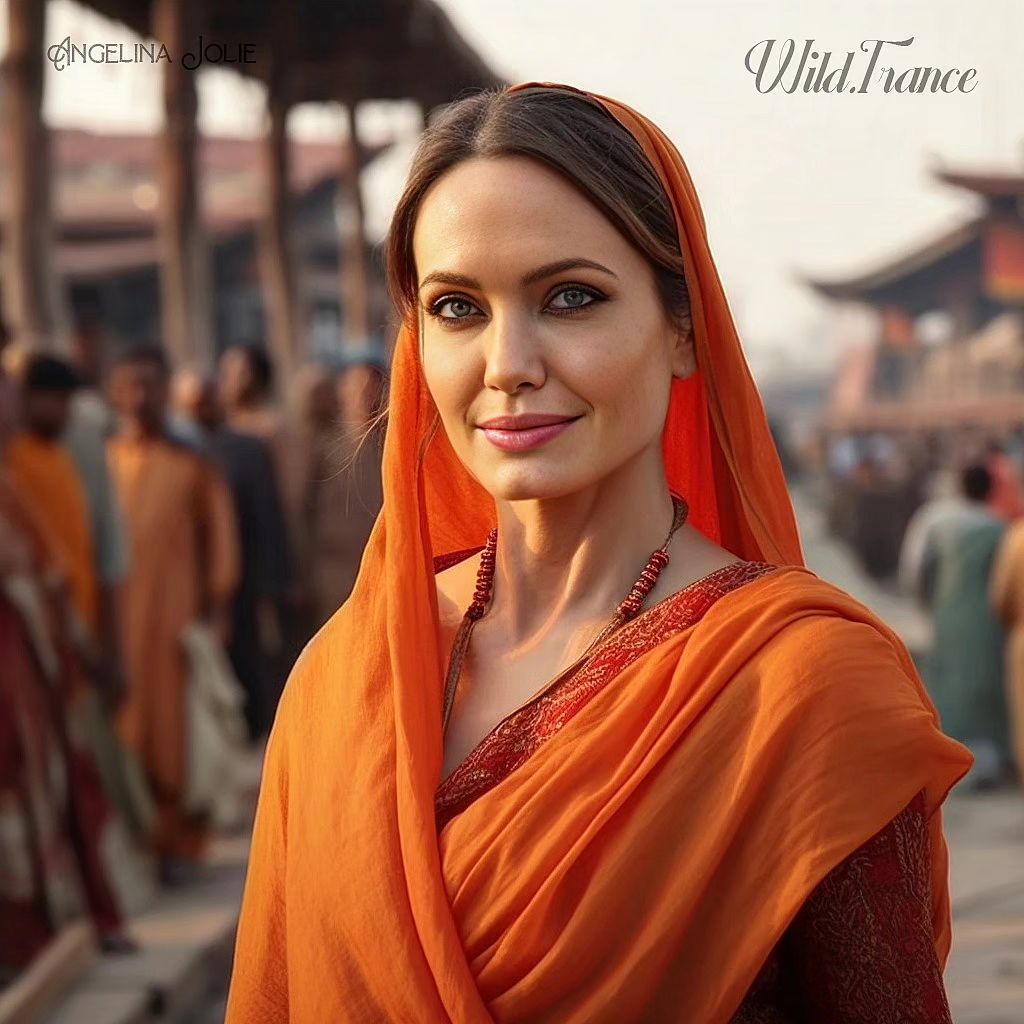 Jolie fully immerses herself in the monkhood; it's as if she's saying, "I may be serene and composed, but I've got a hidden talent for comedic timing!" With each poised step and meditative pose, she manages to sneak in a playful wink or a subtle punchline, leaving her fellow monks in stitches.
Daniela Melchior
Daniela Melchior takes a bold leap into the world of Indian monkhood, infusing her youthful spirit with ancient traditions and sprinkling solemnity. The embodiment of vivacity and playfulness dons the robes of an Indian monk with a mischievous twinkle in her eye. She looks like she's about to reveal the secret recipe for endless giggles.
As Melchior embraces her new persona, you can't help but imagine her skipping merrily along the path to enlightenment, pausing only to perform impromptu dance routines that leave her peers in awe. It's as if she's saying, "Who says enlightenment can't be a joyful dance party? Let's get funky and find our Zen!"