Helping Your Child Complete Assignments
By Anthony K March 7, 2022
---
Assignments are given to reinforce the day's' learning or prompt your child to read ahead and deeper in preparation for the next class. Unfortunately, your child may develop a habit of skipping assignments on purpose because the material is complex. You have a responsibility to ensure that child completes tasks directly or indirectly. This article explores a funny story about a mom trying to help her child with their homework.
The task
Most children enjoy receiving guidance from their parents, but some prefer the guidance of teachers so they can finish their work before going home. That way, they can chill at home and not have to worry. But sometimes, the material is really tough for our kids, so we have to jump in and come to the rescue.
And sometimes, we are completely outsmarted by our kindergartener's assignment, and we have our egos knocked down several notches. Some of us struggled with math, and by the time our kids hit middle school, we are hiring a tutor for them, and a therapist for us to help deal with our math PTSD.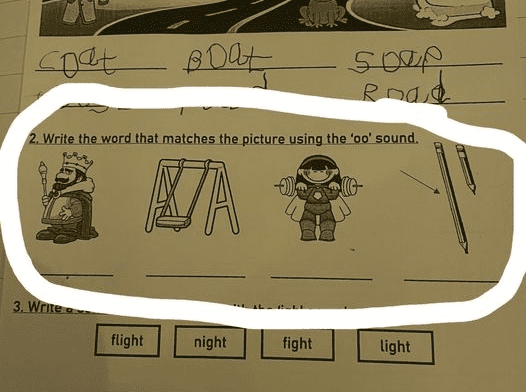 One mom was helping her son with an English assignment. Mind you, her kid was in kindergarten. Just remember that as we go on. They were doing fine until getting to the portion you see above. At that point, the exhausted mother's last two brain cells flew the coop and she was left lost and confused. What would you do in this situation? Post on Facebook, of course!
This industrious woman posted the question online and begged for help from her friends. The comments poured in, revealing that all her friends were equally confused. One user even said, "please let us know when you find out. This will haunt me." Scary.
Some people were less helpful and were just despairing at the terrible question. Hundreds (okay, maybe dozens) of adults couldn't figure out that the "weightlifter girl" (as they all tried to call her) is a superhero, and that "superhero" makes the "oo" sound the worksheet was asking about. We're shaking our heads over here, too.